Print Friendly Version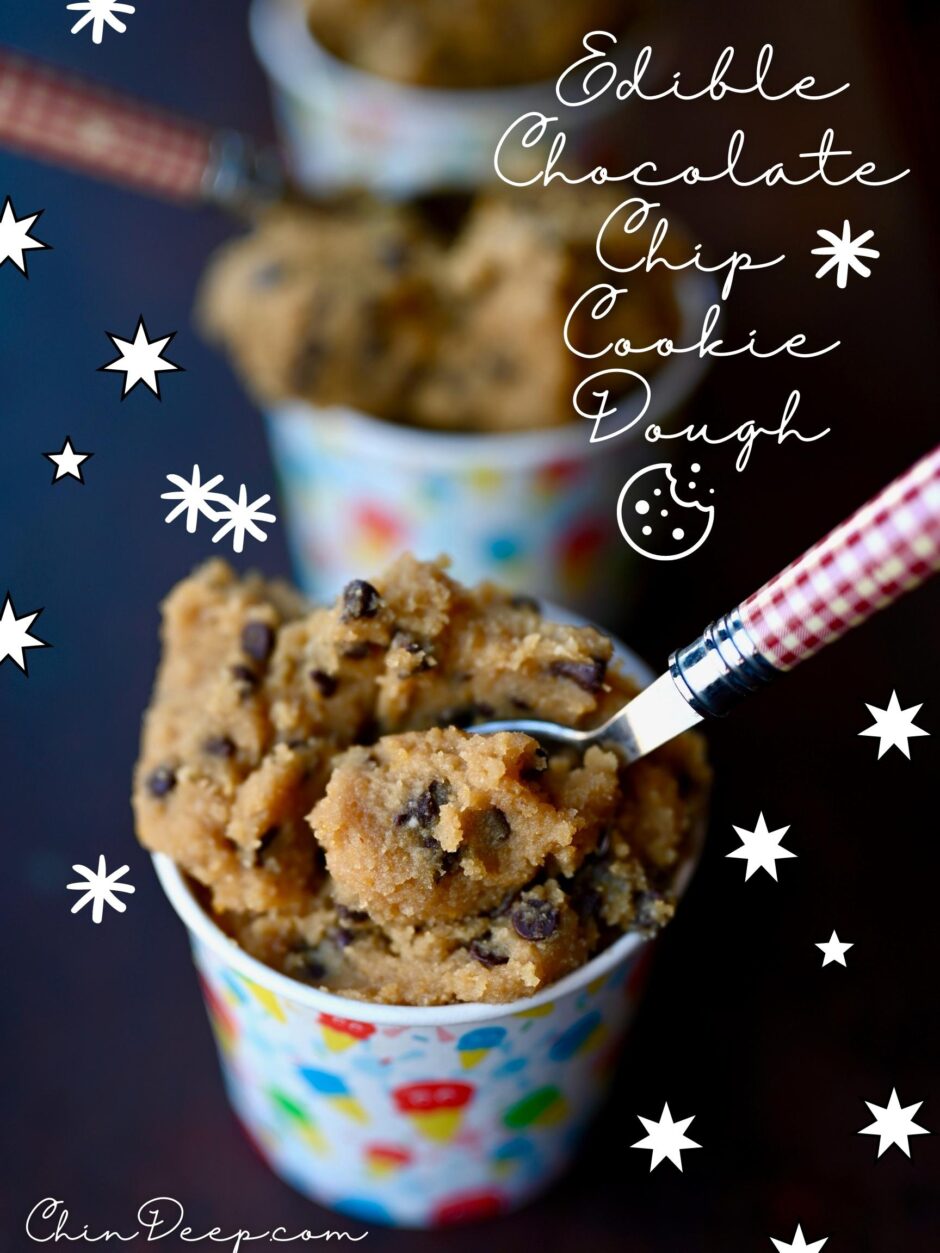 Ya know those times when you're making chocolate chip cookies and you eat a spoonful of the dough and then, instead of stopping, you just keep eating it? This can be a bad thing for multiple reasons. Like, great, I just ate a whole stick of butter. Or, now I have to make another batch of dough because I don't have enough to actually make cookies which is why I came out to the kitchen. Or, I hope I don't die because I just ate raw eggs. Stuff like that. Nothing trivial.
Well, worry no longer. This is a recipe for cookie dough that is meant to be eaten raw. Yup. And it's really good. And (I almost don't even want to tell you this part) it's healthy. Well, healthy-ish. It does have sugar in it so you have to take that into account, but there's only 1 T. of butter in the entire batch. It's high in protein because of the secret ingredient (that I promise you can't even taste)… chickpeas! I know, it sounds crazy, but trust me. The same chickpeas that make hummus are amazing as a base for edible cookie dough. Just make this and don't even tell your friends the chickpeas are in there. They'll never know the difference.
If you want to make this even healthier, omit the butter and substitute the brown sugar with coconut sugar. It's great both ways.
Okay, let's make this cookie dough so you can try it.
1 (15 oz.) can chickpeas, drained very well and rinsed
1 teaspoon fine sea salt
1/8 teaspoon baking soda
3 teaspoons pure vanilla extract
1/4 cup creamy peanut butter
1 Tablespoon butter (I used organic Earth Balance)
1/4 c. plant milk (I used Ripple)
1 and 1/2 to 2 cups almond flour
2/3 cup brown sugar
1 cup mini, semi sweet chocolate chips
Place everything (except for the mini chocolate chips) in the bowl of a food processor and blend until smooth and uniform. Start with 1 and 1/2 cups of the almond flour and add more if needed. Transfer cookie dough to a big bowl and fold in the chocolate chips. Cover and refrigerate until ready to eat. Serve with fresh fruit, graham crackers, and little cookies… or, just eat with a spoon!
Enjoy!
~Melissa
You may enjoy these related posts: