Print Friendly Version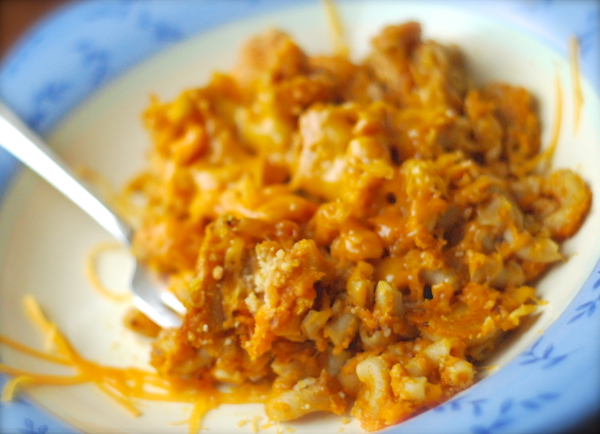 Tonight's dinner was this creamy, dreamy pumpkin macaroni and cheese. I just added pumpkin to the usual bechamel and it turned out beautifully. I browned the butter before adding the flour and it made all the difference!
~ preheat oven to 350 degrees F. ~
~ serves 8 ~
13 oz. whole wheat elbow macaroni pasta
1/2 cup unsalted, grass fed butter
1/2 cup unbleached all purpose flour
2 cups milk (low fat is fine)
1/2 teaspoon sea salt
1/4 teaspoon cayenne pepper
1/4 teaspoon nutmeg
1 heaping Tablespoon grainy Dijon mustard
2 large cloves fresh garlic, minced
1 (15 oz.) can pure pumpkin puree
8 oz. shredded sharp cheddar cheese
1/2 cup grated Parmesan cheese
1/4 cup Panko bread crumbs
Generously butter a 9×13 cake pan.
Cook pasta according to package directions for firm pasta (approximately 7 minutes.) Drain well, toss with a little olive oil, cover and set aside.
In a medium sauce pan, melt butter over low heat. Cook until a light golden color. Stir in flour, using a wire whisk. Cook 1 minute. Remove from heat. Stir in milk. Place over medium heat. Stir constantly, using a wire whisk, until thickened. Stir in salt, cayenne, nutmeg, Dijon, garlic and pumpkin. Add most of the cheddar (reserve a little for topping.) Stir well.
Pour pumpkin cheese sauce over the macaroni and stir gently to combine. Spread evenly into the prepared baking pan. Top with the reserved grated cheddar, the grated Parmesan and the Panko crumbs. Bake, uncovered, in preheated oven for approximately 35 minutes or until a light golden brown color on top and bubbling around the edges. Cut into 8 pieces.
Plate and enjoy!
~Melissa
You may enjoy these related posts: