Print Friendly Version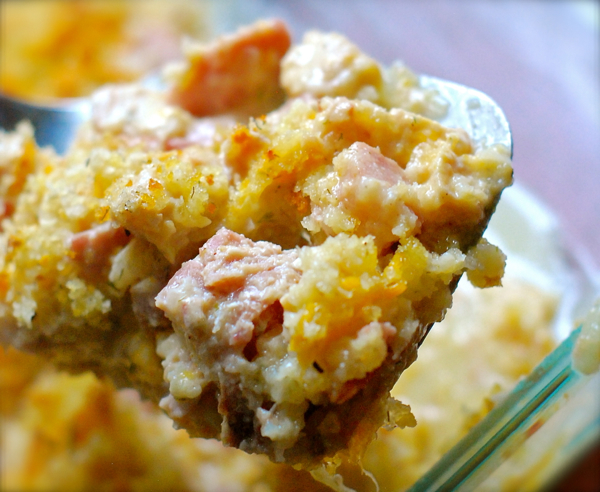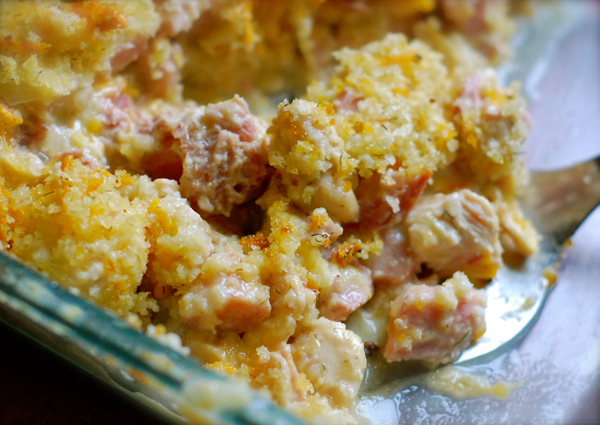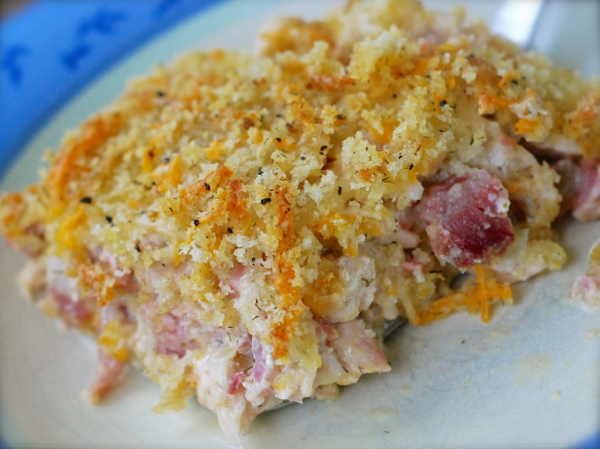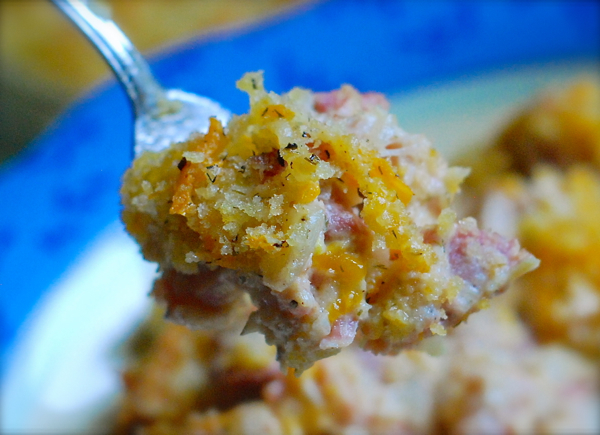 Cheesy, hammy, ooey gooey goodness! This chicken cordon bleu casserole tastes just like the fancy rolled gourmet version, but it's much easier to prepare! I like to make this when I have ham in my refrigerator left over from the holidays. Do you have leftover ham from Easter? Then get cookin'!
~ for the casserole ~
~ preheat oven to 350 degrees F. ~
4 cups cubed, fully cooked, smoked ham
4 cups cubed, fully cooked chicken breast
1 cup shredded Swiss cheese
1 cup shredded cheddar cheese OR Monterey Jack cheese
1 large onion, chopped fine
1/4 cup butter
1/3 cup flour
1 cup cream
1/2 cup milk
1 teaspoon dill
1/4 teaspoon dry mustard
1/8 teaspoon nutmeg
Butter a 9×13, glass baking pan.
In a large saucepan, melt butter until slightly browned. Add onion, and saute until tender. Add flour and stir to form a paste. Slowly whisk in cream and milk until mixture becomes thick. Add dill, mustard, and nutmeg. Mix. Remove from heat. Add meat and cheese. Mix well. Pour into prepared baking pan. Smooth top with back of a spoon or a rubber spatula. Make the crunchy topping.
~ for the crunchy topping ~
1 cup panko bread crumbs
2 Tablespoons melted butter
1 teaspoon dill
1/2 cup shredded Swiss/Cheddar mixture
1/2 teaspoon freshly ground black pepper
Mix ingredients in a small bowl, until well combined. Sprinkle evenly over casserole. Bake, uncovered, for 45 minutes, or until hot all the way through, bubbly, and golden brown on top.
Enjoy!
~Melissa
You may enjoy these related posts: