Print Friendly Version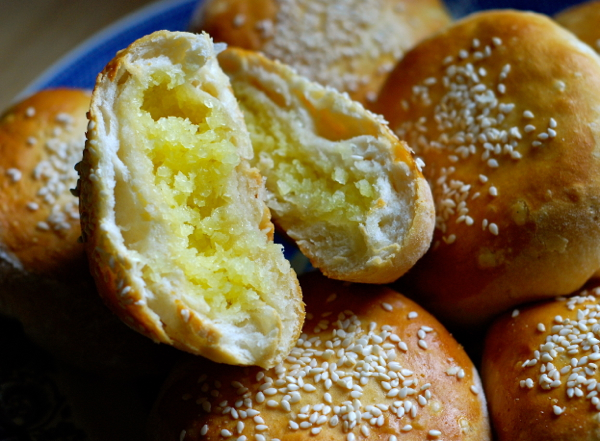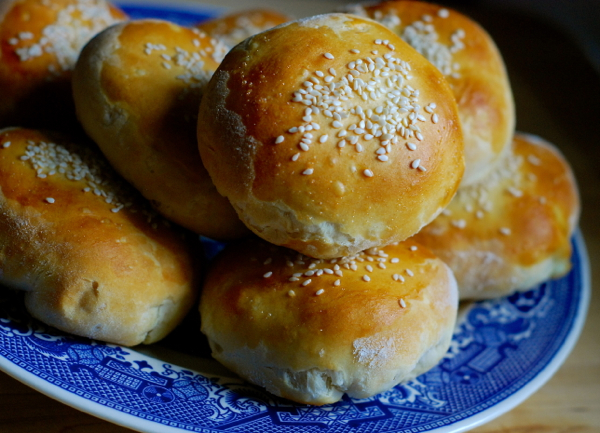 About once every few weeks we visit our local Chinese buffet for lunch or dinner. I usually get the same things. Orange chicken or sesame chicken salad, the garlic green beans, cellophane noodles, crab rangoon or an egg roll, and a coconut-filled bun for dessert. Really, the buns are more like donuts. They're so wonderful all warm from the oven. There's no need to butter them because you add butter to the sweet coconut filling before baking!
I've had coconut buns that have been steamed, and some that have been baked. This recipe is an easy version of the ones you may have enjoyed at the buffet. I use refrigerated biscuits as a shortcut. I think these taste just as good, if not better, than the more complicated recipes I've tried. They're definitely delicious, so count on making a bunch! These would make a wonderful addition to Easter dinner.
this recipe makes 8 coconut buns
~ preheat oven to 350 degrees F. ~
1 tube Pillsbury Grands Buttermilk Biscuits
flour
1 egg, separated
1 and 1/2 cups shredded, sweetened coconut
2 Tablespoons sugar
3 Tablespoons unsalted butter, melted
white sesame seeds
Roll out each individual biscuit on a floured surface so they're flat and approximately 5 inches in diameter.
Place egg yolk, coconut, sugar, and melted butter in the bowl of a food processor. Pulse until thick and evenly blended. Divide into 8 portions, and place a portion on each of the flattened biscuits. Gather edges of a biscuit, pinching together firmly, so the filling is completely sealed within. Repeat with each biscuit, and place them, seam side down, on a parchment or Silpat-lined baking sheet, 2 inches apart. Brush the tops with the reserved egg white, and sprinkle with some sesame seeds. Place in preheated oven and bake for 16 to 18 minutes, or until golden brown, and hot all the way through. Cool on a wire rack for a few minutes and serve while buns are still very warm.
Enjoy!
~Melissa
You may enjoy these related posts: