Print Friendly Version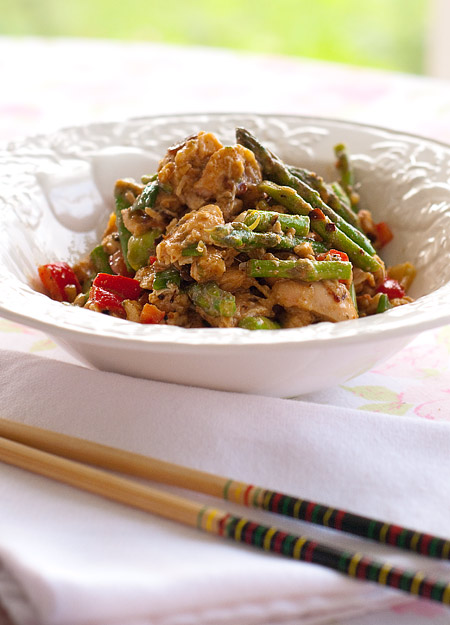 photograph by Jeffrey Placzek
~Sesame Chicken Salad~
8 chicken breasts (bone in, skin on)
extra virgin olive oil
dash of Tony Chachere's Cajun seasoning
1 lb. asparagus, ends removed, cut into thirds diagonally
2 red bell peppers, cored, seeded and cut into thin strips
4 scallions, white and green parts, sliced diagonally
2 teaspoons white sesame seeds, toasted
For the dressing:
1 cup olive oil
1/4 cup white wine
1/3 cup soy sauce
3 Tablespoons dark sesame oil
3 Tablespoons honey
3 garlic cloves, minced
2 teaspoons fresh ginger, grated
1 Tablespoon white sesame seeds, toasted
1/2 cup creamy peanut butter
1 teaspoon freshly grated black pepper
Preheat oven to 350 degrees F. Rub chicken with olive oil. Season with salt and pepper. Roast until just cooked (about 40 minutes.) Set aside to cool.
Blanch the asparagus in a pot of boiling, salted water for 3 to 5 minutes. It should be slightly tender, still crisp and bright green. Immediately plunge into ice water to stop cooking. Drain well.
When meat is cool, remove from bones and discard the skin. Shred chicken into large, bite-sized chunks. Combine shredded chicken, asparagus, and peppers in a large bowl.
Whisk together all of the ingredients for the dressing. Taste and add salt and pepper if needed. Pour over chicken and vegetables. Add scallions and sesame seeds. Serve cold or at room temperature.
Enjoy!
~Melissa
You may enjoy these related posts: