Print Friendly Version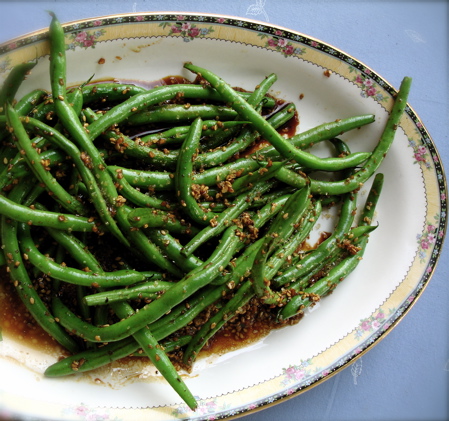 ~sesame garlic sauteed green beans~
Confession. I am not an enthusiastic cook in the warm months. I love fresh, fresh produce, grilled meat (that Jeff makes) easy, no-bake desserts (mostly ones that contain berries, ice cream and chocolate) and going out to dinner somewhere where they offer al fresco dining and good wine. I feel like there's so darn much to do in the summer, why spend hours in the kitchen? Plenty of time for that in the winter. This is the time to be soaking up the sun.
I have come to realize that this results in sort of condensed blog posts when it comes to food. But, maybe that's a good thing. Maybe you don't want to spend hours in the kitchen right now either.
Which brings me to today's recipe. Sesame garlic sauteed green beans. These are so yummy that when we make them we just stand at the counter and eat them immediately. Not very fancy, I know. One certainly could serve these on a plate and use silverware. 🙂
1 lb. fresh green beans, washed, stem-ends removed
2 Tablespoons extra virgin olive oil
drizzle of dark sesame oil
3 teaspoons fresh, minced garlic
2 teaspoons fresh, grated ginger
2 Tablespoons toasted sesame seeds
2 Tablespoons Tamari sauce
drizzle of honey
pinch of cayenne
coarse sea salt and fresh ground pepper to taste
Cook the prepared green beans in a pot of boiling water for two minutes. Immediately remove from water and plunge into a big bowl of ice water to stop cooking. Drain. Blot dry. Saute in the oils for 2-3 minutes. Remove to a serving platter . Place the rest of the ingredients in the pan to heat. Cook just until warm and the garlic is fragrant. (Adding a little more oil if needed.) Pour over beans, tossing gently to coat. Serve immediately.
Enjoy!
~Melissa
You may enjoy these related posts: