Print Friendly Version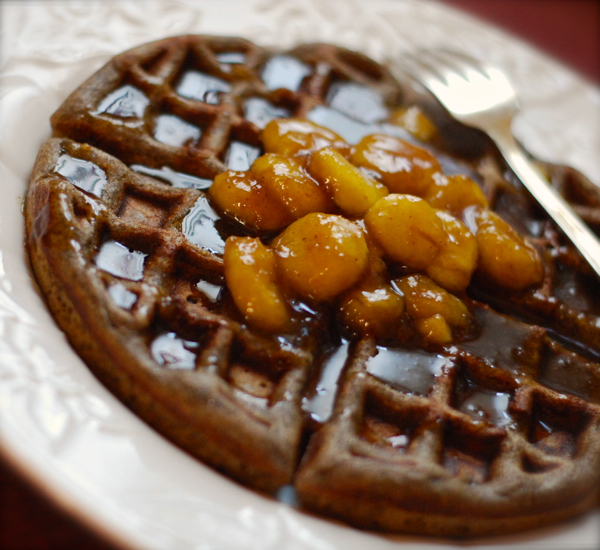 Here's a fantastic, filling, high protein waffle recipe that is also gluten free. It's quite a bit healthier than the typical Belgian waffle, but there is a lot of sugar in the bananas foster topping. If you'd like to substitute agave for the brown sugar, you sure can. Some people say that blue agave nectar is better for those watching their blood sugar because it's lower on the glycemic index, and some say it's just as bad as regular sugar. It totally depends on which article you're reading. So, I guess the jury is still out on that.
Anyhoo, this is delicious. A perfect weekend breakfast for the banana lovers in your life!
for the bananas foster topping:
1/2 cup dark brown sugar or organic blue agave nectar
1/4 teaspoon cinnamon
 1/4 cup butter, cut into pieces
4 bananas, peeled and sliced
2 oz. spiced rum
sprinkle of coarse sea salt
Combine the sugar, cinnamon and butter in a medium size saucepan. Bring to a gentle simmer. Add the sliced bananas and cook until the bananas soften a bit and the topping becomes a little bit thick and caramelized. (about a minute.) Add the rum and cook just until the syrup thickens again (about a minute.) Top waffles with the banana mixture and sprinkle with a little sea salt.
for the waffles:
~ makes approximately 4 large Belgian waffles ~
1 cup buckwheat flour
1 cup gluten free all-purpose flour
1/4 cup cornmeal
1/4 teaspoon sea salt
1 and 1/2 teaspoons baking powder
1 and 1/2 cups milk
2 large eggs, lightly beaten
1 Tablespoon honey
2/3 cup mashed, ripe bananas
1/4 teaspoon cinnamon
1 Tablespoon canola oil, melted virgin coconut oil or light olive oil
olive oil cooking spray for waffle iron
Heat waffle iron according to manufacturer's directions and spray with a little olive oil cooking spray.
Combine all ingredients in a large mixing bowl until well mixed. Allow batter to sit for 5 minutes before using. Cook waffles according to manufacturer's directions for your particular waffle iron.
Plate, top with the bananas foster, and serve.
Enjoy!
~Melissa
You may enjoy these related posts: