Print Friendly Version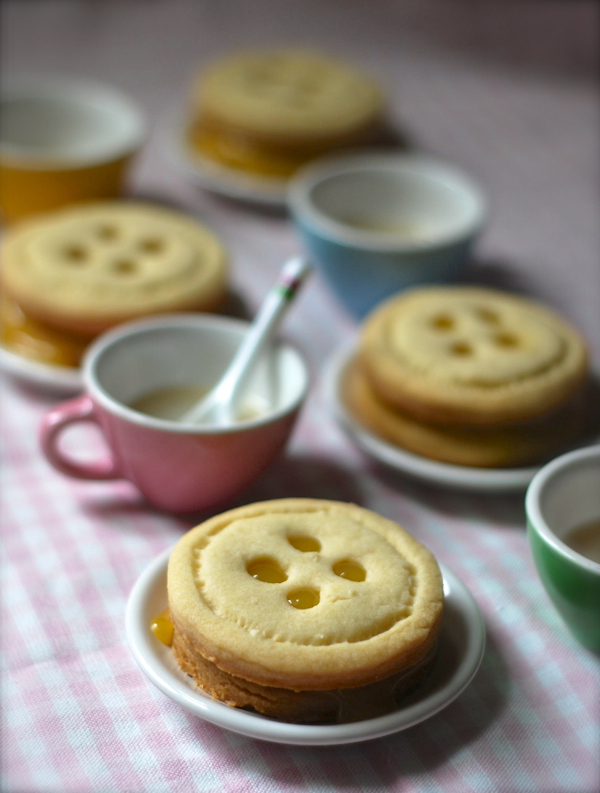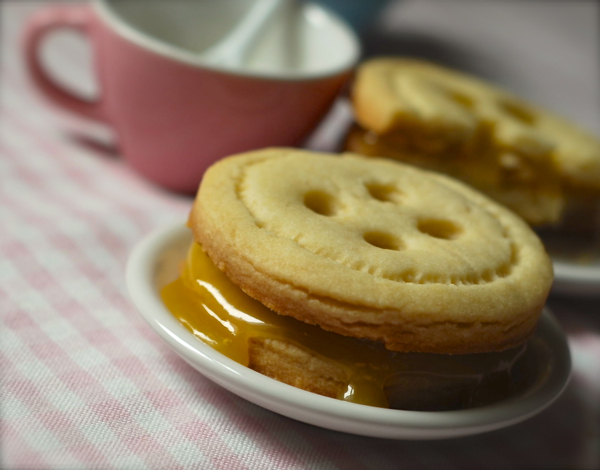 Yippee! It's the weekend! Well, Friday afternoon… close enough 😉 I was planning on spending the day with my dear friend Nancy today, but Old Man Winter (who is suppose to be on vacation now, according to my calendar) is still up there dumping snow on us and laughing. NOT funny, I say! Anyway, our plans got cancelled due to the school district calling another "snow day." So, I'm hanging out at home with my family and baking cute food for tea time.
This recipe was inspired by one I found in an old Victoria magazine. I know I have the issue stashed away in a box in the attic somewhere, but I didn't feel like digging it out. The original button tarts are much smaller than mine (about an inch across, actually, like a real button.) Mine measure about 2 and 1/2 inches across. I wanted to make them big enough so the button holes on the top would be big enough to show off the yummy filling within the tarts. I made mine with 3 different fillings: lemon curd, raspberry jam and fig preserves. The original called for lemon curd only. The cookies are pure shortbread… flour, sugar, butter and vanilla. I hope you love these as much as we do!
~ preheat oven to 350 degrees F. ~
:: makes approximately 12 tarts ::
2 cups all-purpose flour
1 cup real butter, softened
1/2 cup powdered sugar
2 teaspoons pure vanilla extract
Combine all ingredients in a big mixing bowl until they form a uniform ball of dough. (You may have to use your hands.) Roll out on a lightly floured surface to about 1/4 inch thick. Cut out 24 circles using a cookie cutter or a glass. Place 12 of the circles on a large, ungreased cookie sheet (you don't have to worry about them being too close together because there's nothing in these cookies that will cause them to rise. They hold their original shape.)
Using a straw, make button holes in the other 12 cookies and decorate (as pictured above.) Place these button cookies on the cookie sheet. Bake 12 to 15 minutes, or just until the cookies are beginning to turn a light golden brown along the edges. Be careful, the butter content in these will cause them to burn quickly if they stay in the oven too long.
Cool on the cookie sheet for a couple minutes before carefully transferring them to cooling racks to cool completely.
Fill with desired fillings. Lemon curd, jam, preserves, frosting, Nutella, Biscoff spread… the possibilities are endless.
Enjoy!
XO,
~Melissa
You may enjoy these related posts: