Print Friendly Version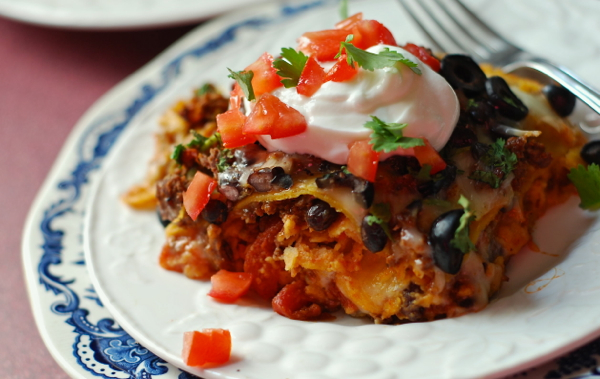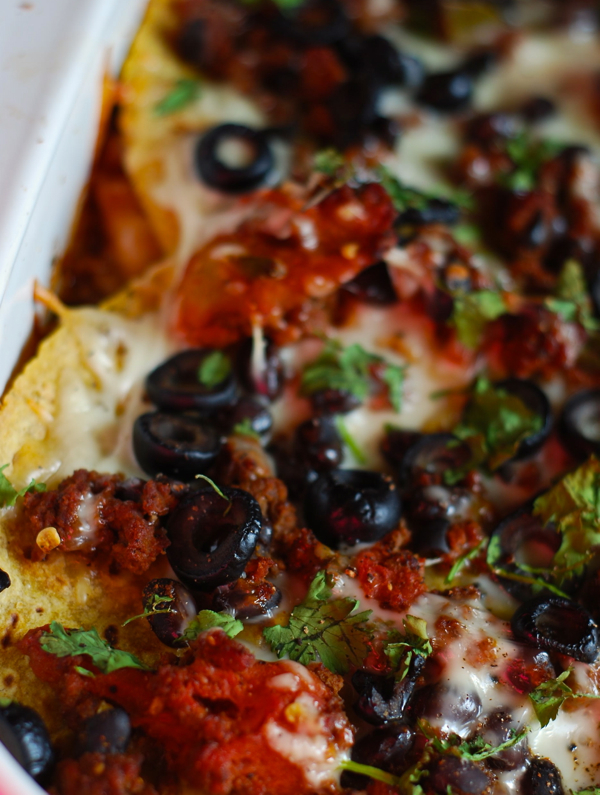 Yum! Are you ready for this? It's so good, and good for you too! I love all different kinds of lasagna… (all rolled up, decadent Italian with bechamel, Will's vegetarian version…) and this hits the spot when you're craving cheesy, Mexican food.
Feel free to use your favorite kind of tortillas for this recipe. Flour, whole wheat, yellow corn, white corn, or my favorite, Trader Joe's Corn-Wheat with whole grain!
~ preheat oven to 425 degrees F. ~
serves 8 to 10 people
1 lb. extra lean ground beef or bison
3 Tablespoons olive oil
1 small onion, finely chopped
2 Tablespoons chili powder
1 Tablespoon onion powder
2 teaspoons smoked paprika
2 teaspoons cumin
1 teaspoon garlic powder
1 teaspoon Mrs. Dash (original)
1 teaspoon freshly ground black pepper
1/4 teaspoon chipotle powder or cayenne
1/4 teaspoon cinnamon
28 oz. can whole tomatoes in juice (I used no salt added)
15 oz. can reduced sodium black beans, drained and rinsed
4 oz. diced green chile (drained)
18 small, taco-size tortillas (your choice of type)
14 oz. shredded pepper jack cheese
1/3 cup sliced black olives (drained well)
chopped, fresh cilantro
chopped green onion
sour cream or plain greek yogurt
hot sauce
avocado chunks (optional)
In a large skillet or Dutch oven, brown beef, onion and all spices in the 3 Tablespoons of olive oil for 7 minutes. Drain the tomatoes and reserve the juice. Break up tomatoes and add them, along with the black beans and green chilies, to the beef mixture in the pot. Stir to combine. Remove from heat.
Pour 1/3 of the tomato juice in the bottom of an oiled, 9 x 13 glass baking dish. Lay 6 tortillas in the bottom. Spoon 1/3 of the beef/tomato mixture over the tortillas, followed by 1/3 of the shredded cheese. Repeat (sauce, tortillas, beef mixture cheese…) two more times, ending with cheese on the top. Sprinkle the olives over everything.
Bake for 20-25 minutes or just until the lasagna is hot all the way through and the cheese is melty and bubbling. Cut into squares, plate and garnish with any or all of the remaining ingredients listed above.
Enjoy!
~Melissa
You may enjoy these related posts: