Print Friendly Version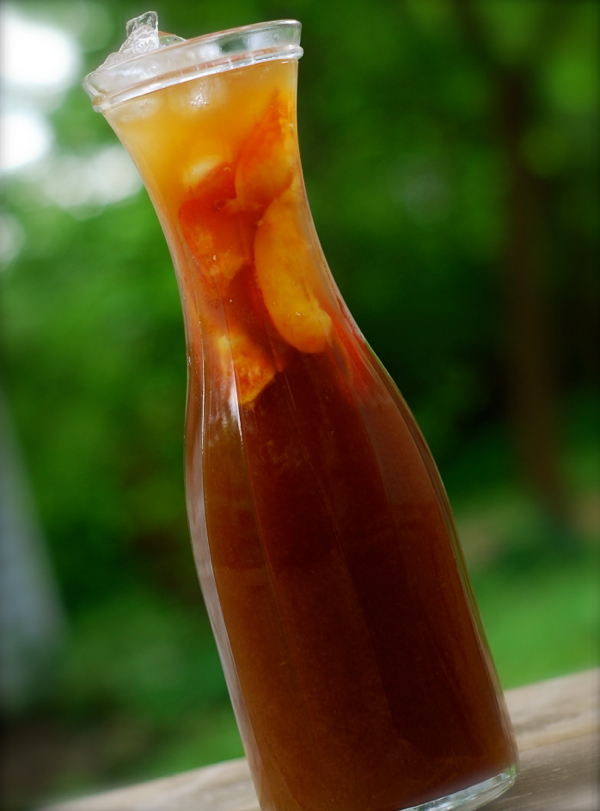 This is a wonderfully sweet, refreshing iced sweet tea that we enjoy sipping on hot summer days. It's the perfect beverage to serve for picnics, potlucks, garden parties, and any gathering where you and your guests will be dining al fresco. Feel free to double or triple this recipe for a big crowd. You may want to make a test batch first to see how strong you like your tea (I like mine fairly strong.) I make this with black Pickwick Peach Tea. If you can't find Pickwick Peach Tea where you live, you can order it from Amazon, or just use your favorite black tea along with any peach tea bags that are available at your grocery store. Another alternative would be to use all black tea bags and add a teaspoon of peach extract. I've made it several different ways and it's great every time.
for 6 to 8 servings:
for the peach simple syrup:
1 cup sugar (or more if you like your tea very sweet)
1 cup water
3 fresh, ripe peaches, unpeeled, pits removed, sliced
1 teaspoon peach extract (if using)
Place all syrup ingredients, except for the extract, in a saucepan. Bring to boil. Reduce heat and stir until sugar is completely dissolved. Mash up peach slices with a potato masher. Remove from heat. Allow to rest for an hour before straining into a pitcher to remove all fruit pieces. Add peach extract if using. Stir.
for the tea:
6 black tea bags + 4 peach tea bags OR 8 bags Pickwick peach black tea
8 cups water
Bring water to boil in a large saucepan. Once boiling, remove from heat and add tea bags to water. Allow to steep for 20 minutes. Remove tea bags, squeeze out excess tea, and discard bags. Allow tea to cool completely. Add to the peach syrup in the pitcher and stir well. Place in refrigerator and chill completely prior to serving over ice. Garnish with fresh peach slices.
Enjoy!
~Melissa
You may enjoy these related posts: