Print Friendly Version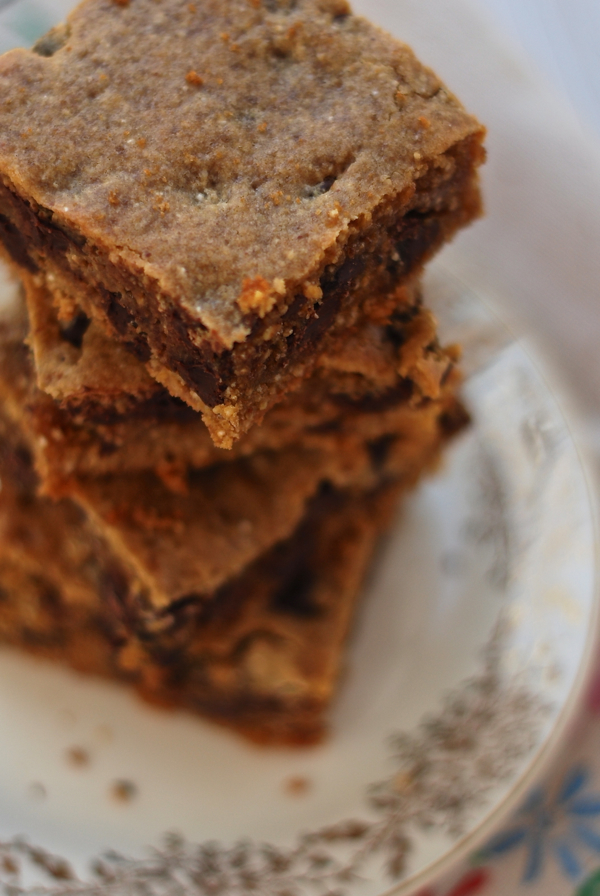 My phone has been ringing off the hook and my email has been filling up like crazy cakes. People excited about seeing my Heirlooms article in TeaTime Magazine, and wondering when the big feature article, (7 to 10 pages…) "The Minnesota Tea Experience ~ Taking Tea in the Land of 10,000 Lakes," is going to appear.
The last I heard was the May/June 2013 issue. So…the very next issue. I will keep you all posted! As soon as I get my proofs, I'll let you know. This is so exciting! Thank you, everyone, for being so enthusiastic and excited for me. That means so much.
Here's a yummy recipe I made for our company last Friday. We were going for a healthy theme, so we made homemade pizzas on fresh whole wheat pizza crust, Easy Breezy Caprese Salad, a little wine…and these bars.
These are gluten free, high in protein, and chock full of semi-sweet chocolate chips. Before I made them I was a bit apprehensive. I had never really cooked with quinoa in this manner before. I was amazed at the results. These are so rich and wonderful. If you can't find quinoa flour at your co-op or natural food store, simply grind some raw quinoa in a clean coffee grinder until you have the amount of flour you need.
1/4 cup unsalted, melted butter
1/4 cup olive oil
1 and 1/2 cups creamy peanut butter (I used organic Smucker's)
4 large eggs, lightly beaten
1 and 1/2 cups dark brown sugar
2 teaspoons pure vanilla extract
1 and 1/2 cups quinoa flour
2 teaspoons baking powder
1 teaspoon sea salt
2 cups semi-sweet or dark chocolate chips
Preheat oven to 350 degrees F. Butter a 9 x 13 glass baking pan. In the bowl of a table top mixer, beat butter, oil and peanut butter until well combined. Add eggs, brown sugar and vanilla. Beat to mix. Remove bowl from mixing stand.
In a separate bowl, mix the quinoa flour, baking powder and salt. Add the dry ingredients to the wet ingredients, and using a wooden spoon, mix by hand until just combined. Fold in chocolate chips until evenly incorporated. Spread batter evenly into buttered cake pan.
Bake for 35 to 45 minutes or until a toothpick inserted in center comes out with a few crumbs on it. Allow bars to cool in pan for 45 minutes before cutting and serving.
Enjoy!
~Melissa
You may enjoy these related posts: