Print Friendly Version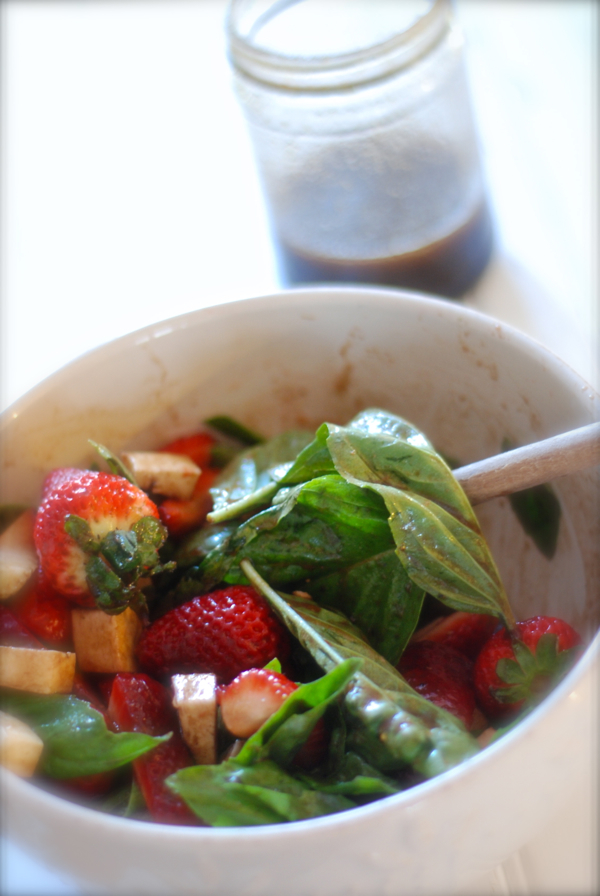 I'm taking a little break from painting and editing to write to you and share this yummy, easy, very "springy" recipe. I'm just so happy that the sun is shining and that it's nice enough outside to go out without a jacket… 50 degrees here in the Mississippi River Valley today. We grilled steaks last night for dinner and actually enjoyed a glass of wine on the deck. I think we can safely say winter is gone.
I'm in love with strawberries. I thought it would be fun to substitute them for tomatoes in a caprese salad and make a sweet balsamic dressing to pour over the top. I'm going to be making this deliciousness all summer…
In a medium salad bowl, combine:
1 cup fresh, clean basil leaves (blotted dry)
12 oz. fresh strawberries, quartered
8 oz. fresh mozzarella (either pearls, or chopped into little cubes)
for the brown sugar balsamic:
1/2 cup extra virgin olive oil
1/4 cup balsamic vinegar
1/4 cup brown sugar
2 Tablespoons water
1 teaspoon salt
1 teaspoon freshly ground black pepper
1 teaspoon garlic powder
1 teaspoon onion powder
Place all of the dressing ingredients in a canning jar. Cover tightly with a lid and shake until well combined. Pour about half over the salad and toss to coat. Add more if you like. (This dressing also makes a great marinade for chicken or pork before grilling.)
Enjoy!
~Melissa
You may enjoy these related posts: