Print Friendly Version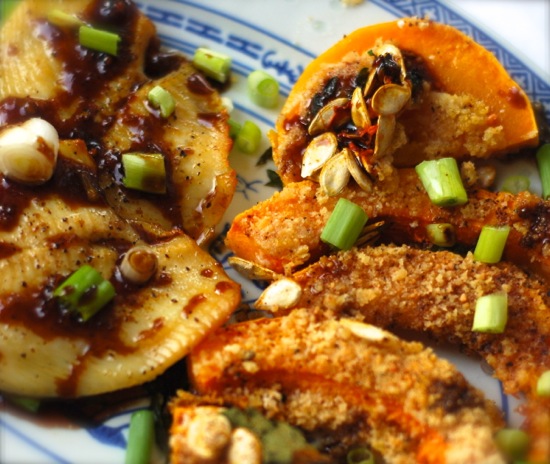 A delicious, healthy meal that cooks up easily. Feel free to pan fry the fish if you don't have the time to light up the grill.
for the fish:
8 small flounder fillets, grilled on cedar planks
1/3 cup low sodium soy sauce
1/3 cup dry sherry
2 Tablespoons honey
2 Tablespoons olive oil
2 teaspoons orange zest
2 teaspoons corn starch
4 sliced green onions
Grill flounder fillets on prepared cedar planks or heat a large nonstick skillet coated with olive oil over medium-high heat. Add fillets and cook for 3 to 4 minutes on each side or until fish flakes easily when tested with a fork. Remove fillets from grill or skillet and cover with aluminum foil to keep warm.
Combine soy sauce, sherry, honey, olive oil and orange zest in a skillet (if you pan fried your fish, use the same skillet to make the sauce.) Cook over high heat for a minute. Whisk in cornstarch, stirring constantly until mixture thickens. Plate the fish. Drizzle with the sauce and garnish with the sliced green onions.
for the squash:
1 butternut squash (about 2 and 1/2 lb.)
1/4 cup butter, melted
2 large garlic cloves, minced
1/3 cup panko bread crumbs
1/3 cup Parmesan cheese
1 teaspoon onion powder
1 teaspoon salt
1 teaspoon freshly ground black pepper
squash seeds
1/4 cup chopped fresh parsley
 1 teaspoon nutmeg
Heat oven to 375 degrees F. Spray a 9 x 13 glass baking pan with olive oil spray. Peel squash and cut in half lengthwise. Remove seeds and set aside. Cut into 1/2 inch slices. Arrange in a baking dish so the slices are overlapping slightly. Combine melted butter and garlic. Pour over squash. Combine Parmesan, onion powder, salt and pepper in a small bowl. Sprinkle evenly over squash slices in pan. Sprinkle squash seeds, parsley and nutmeg over top. Bake for 45 minutes to an hour, or until lightly browned and soft when poked with a fork.
Enjoy!
~Melissa
You may enjoy these related posts: