Print Friendly Version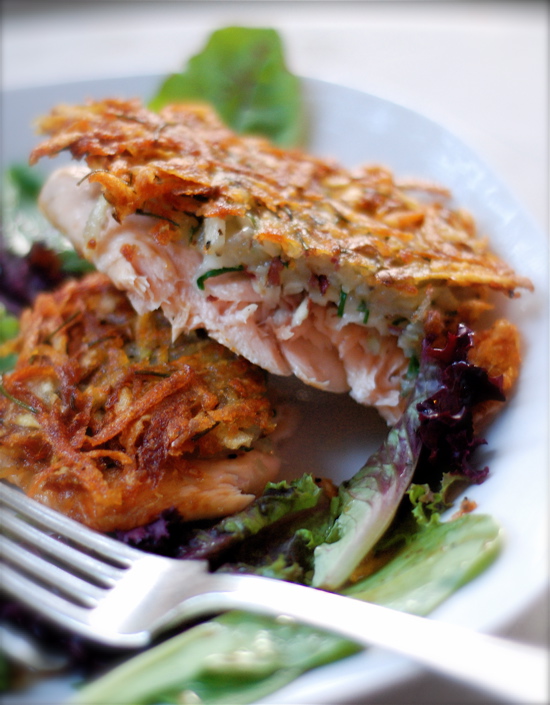 Whenever I say I'm cooking potato crusted salmon for lunch or dinner, Jeff makes yummy noises. This is definitely one of our favorite meals. Full of flavor and it fries up in a flash.The potatoes make a crispy, crunchy "pancake" on one side. SO delicious with mixed greens and balsamic vinaigrette.
4 cups unpeeled, shredded potatoes blotted and squeezed dry
2 Tablespoons fresh snipped chives
2 Tablespoons flour
1 teaspoon Old Bay Seasoning
salt and freshly ground pepper
4 (8 oz.) boneless skinless salmon fillets, blotted dry
1 cup canola or peanut oil for frying
lemon wedges
In a medium bowl, combine dried potatoes with the chives, flour, Old Bay, salt and pepper. Lay salmon fillets on a work surface and firmly press about 1/4 -1/3 cup of the shredded potato mixture on each piece.
In a large nonstick skillet heat oil until it shimmers. Carefully add the fillets to the oil, potato side down. cook over medium-high heat, undisturbed, until golden brown (about 8 minutes.) Carefully flip salmon and cook for about one minute longer. Using a slotted spatula, transfer the salmon to plates. Serve with a crispy green salad and balsamic if you wish. Garnish with lots of lemon wedges.
Enjoy!
~Melissa
You may enjoy these related posts: