Print Friendly Version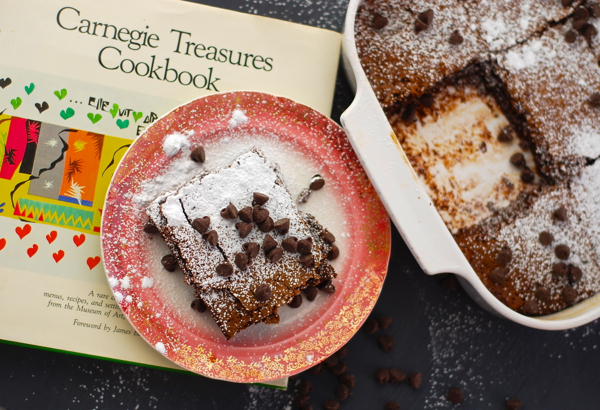 We've been celebrating chocolate with a Chocolat Garden Party over on my facebook page this week. It was inspired by the garden party scene on Vianne's patio.  Oh my goodness! So many wonderful recipes, so little time. I'm having lots of fun hosting these little parties, networking and getting to know new page owners. We've been getting close to 100 likes a day on the page…and close to 200,000 hits on the blog monthly as a result. YAY! Exciting stuff!
Here's one of my favorite recipes for brownies. They're perfect. I don't add nuts to my brownies, but the original recipe calls for 1 cup of chopped pecans…
preheat oven to 350 degrees F.
4 oz. unsweetened chocolate
1/2 pound unsalted butter
2 cups sugar
1 teaspoon pure vanilla extract
1/2 teaspoon almond extract
1 teaspoon salt
1 teaspoon black pepper
4 large eggs
 1 cup + 2 Tablespoons cake flour
1 cup semi-sweet chocolate chips
confectioner's sugar for dusting
Generously butter a 9 x 13 glass cake pan. Melt unsweetened chocolate and butter slowly in a double boiler or heavy-bottomed saucepan. Transfer to a mixing bowl. Stir in granulated sugar, vanilla, almond, salt and pepper. Lightly beat eggs and add them to the chocolate mixture. Mix until just combined. Fold in cake flour. Add chocolate chips (and pecans if you're using them.) Mix until just combined. Pour into cake pan and smooth top with a rubber spatula. Bake in lower third of oven for 40 to 45 minutes. Cool completely before cutting into squares and dusting with confectioner's sugar. Makes about 24 brownies.
Enjoy!
~Melissa
You may enjoy these related posts: