Print Friendly Version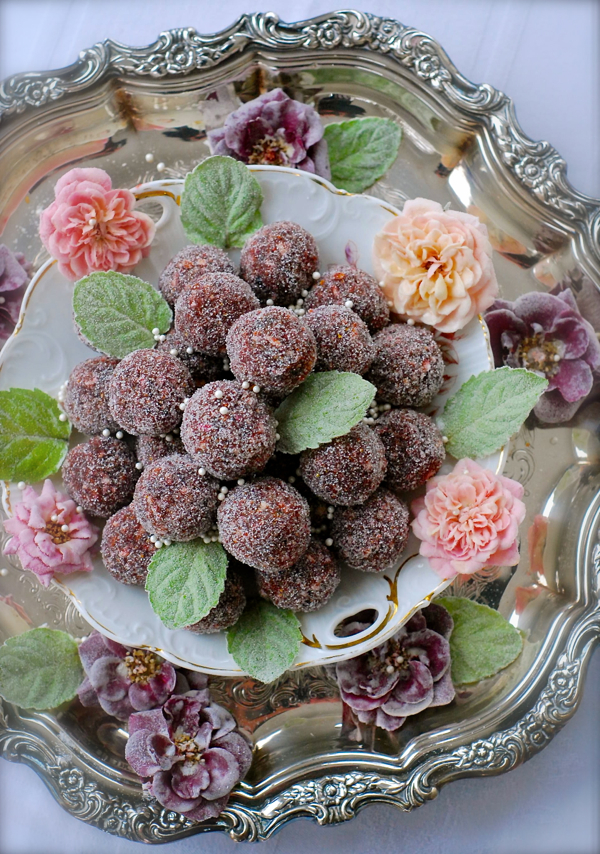 " The children were nestled all snug in their beds, while visions of sugarplums danced in their heads." ~The Night Before Christmas by Clement Clarke Moore
I've been busy preparing all sorts of confections for our upcoming Christmas party, and this was at the top of my list. There's something so magical about making sugarplums while the snow falls gently outside my kitchen window and "Scrooge," starring Albert Finney, plays on the little kitchen DVD player.
Sugarplums are such a pretty addition to a holiday sideboard. Make them with or without the spirits. Either way, they're wonderful…
1 cup finely chopped, pitted dates OR 1/2 cup dates + 1/2 cup prunes
1/2 cup finely chopped walnuts or pecans
1/2 cup finely chopped almonds or pistachios
1/2 cup finely chopped, dried cherries or cranberries
1/2 cup finely chopped, dried figs (stems removed)
1/2 cup finely chopped, dried apricots
1/4 cup honey
1/4 cup brandy or whiskey (I used "Revel Stoke Roasted Pecan Whiskey")
1 and 1/2 teaspoons ground cinnamon
1/2 teaspoon ground nutmeg
1/4 teaspoon ground cloves
14 drops natural, purple food coloring (optional)
1/3 cup sugar (for coating sugarplums)
In the bowl of a large food processor, mix all dried fruits, nuts, honey, brandy/whiskey, spices, and food coloring. Blend on high until mixture starts to clump together. Stir with a spoon and keep blending and pulsing the mixture until it is very well blended and all of the ingredients look uniform. Transfer to a bowl, and using your hands, moosh the mixture to evenly distribute the food coloring (if using.)
Using your hands, roll out approximately 30 sugarplums. Roll in sugar. Place in air-tight containers and refrigerate until ready to eat (these will keep in your refrigerator for up to 2 weeks.
Enjoy!
~Melissa
You may enjoy these related posts: