Print Friendly Version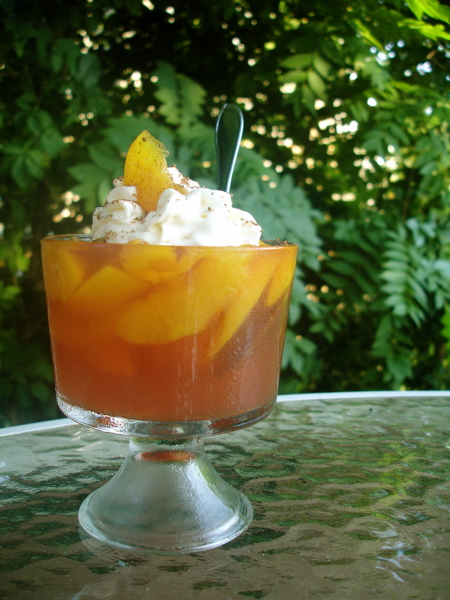 ~spiced peach salad~
"I drink the sunshine showered past her lips 
As roses drain the dewdrop as it drips. 
The ripest peach is highest on the tree, 
And so mine eyes gaze upward eagerly." 


~James Whitcomb Riley
This is a light, refreshing fruit salad for summer. Juicy peaches floating in spicy peach jell-o with a whipped cream cloud on top. I love to serve this as a dessert, but it's great as a first course too! The flavor reminds me of old fashioned, canned, spiced peaches from Grandma's pantry. A classic, summer treat.
1/2 cup sugar
3 Tablespoons white vinegar
2 cups water
1 Tablespoon whole cloves
4 cinnamon sticks
10 pepper corns
1 (6 oz.) package peach Jell-o
1 (29 oz.) can peach halves
In a medium saucepan, combine sugar, vinegar and water. Tie cloves, cinnamon and pepper corns in a cheesecloth bag; place in saucepan. Bring to a boil, lower heat and simmer, uncovered for 10 minutes. Remove from heat. Discard spice bag. Add gelatin and stir until completely dissolved. Drain peaches, reserving syrup. Set peaches aside. Add water to syrup to equal 2 cups of liquid. Add to gelatin mixture and stir well. Pour into individual dessert cups being sure to leave at least an inch of head space. Chill until slightly set. Thinly slice peaches and add to the dessert cups. Chill until firm. Serve with a dollop of whipped cream and a sprinkling of nutmeg on top.
Enjoy!
~Melissa
You may enjoy these related posts: