Print Friendly Version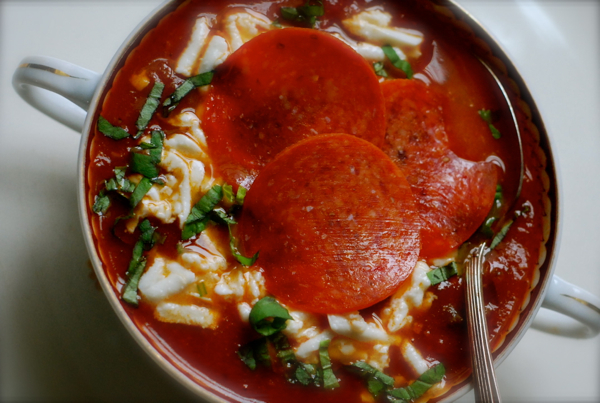 Mmmmmm…. Are you ready for another delicious, cozy soup to add to your cold weather repertoire? This is a wonderful dish to make when you're craving pizza and don't want to eat a bunch of sugar-laden, carby crust. It's loaded with vegetables and tons of flavor. It tastes just like pizza!
1/4 cup extra virgin olive oil, divided
1 large onion, chopped
2 sweet green bell peppers, seeded and chopped
8 oz. fresh, washed, sliced baby bell mushrooms
3 large garlic cloves, minced
1 lb. lean hot or sweet Italian sausage (pork or turkey), browned and drained
4 cups chicken stock or broth
2 (24 oz.) jars marinara sauce or spaghetti sauce
1/4 teaspoon red pepper flakes
4 oz. sliced pepperoni quartered (or use mini pepperoni)
grated fresh mozzarella cheese
fresh basil and/or oregano, chopped
Italian bread or garlic bread for serving (optional)
Place 2 Tablespoons of the olive oil in each of 2 large, heavy skillets. Heat oil. Divide onions, peppers and mushrooms between the two skillets and saute until veggies are tender and slightly browned. Add the minced garlic during the last minute or two of cooking time. Transfer veggies to a large soup pot. Brown sausage and drain it well, then and add it to the soup pot along with the stock, spaghetti sauce, red pepper flakes and most of the pepperoni (set some of the pepperoni aside for garnish.) Bring soup to a boil and then reduce heat to a gentle simmer. Cover soup pot with the cover slightly askew so some of the steam can escape while it cooks. Simmer, stirring frequently, for 20 to 30 minutes.
Ladle into bowls. Top each bowl with some of the fresh, grated Mozzarella, a few slices of pepperoni and a little freshly chopped basil/oregano. Serve with buttered Italian bread or garlic bread for dipping if you like.
Enjoy!
~Melissa
You may enjoy these related posts: