Print Friendly Version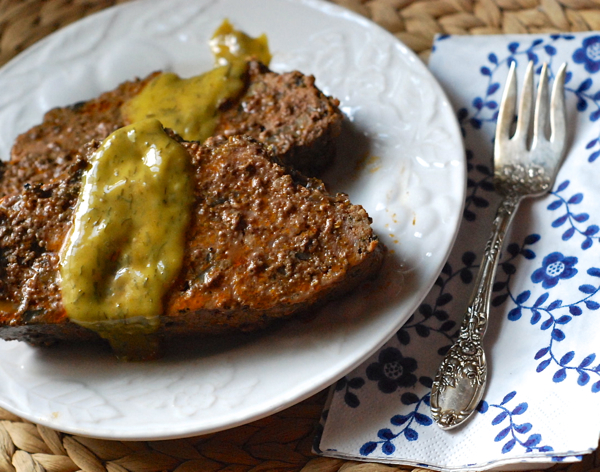 I just returned home after a fun day cooking with my daughter and my grandgirls (Two Cuties in the Kitchen.) We made some awesome, 3-Ingredient Strawberry Ice Cream Scones in preparation for Valentine's Day, and we took Maddie May's Easy Bake Oven on it's maiden voyage. Oh my gosh… SO much fun. The girls are sporting new, designer aprons that my friend Sandy Erdman (of Sandy's Sweet Nothings) made for them. How adorable do they look in those cupcake aprons? If you haven't had a chance yet, I encourage you to go over to their blog and do some browsing. We try to get together at least once a week to create easy, kid-friendly recipes that everyone can enjoy making. If you have kids or grandkids, you're going to love it!
In other news, here's the recipe I dreamed up this past weekend. I have always loved sauteed, browned mushrooms cooked in a red wine reduction until slightly carmelized and sticky. I thought these mushrooms would make an excellent addition to Crock Pot meatloaf. I must say, I was right 😉
I decided to serve this with a delicious sweet mustard dill sauce that we purchased at IKEA. It turned out to be the perfect accompaniment. If you don't live within a reasonable distance of an IKEA store, simply make a jar of THIS easy Honey Dijon Sauce and mix a Tablespoon of fresh or dried dill into it before slathering it on thick slices of the juicy meatloaf. We drizzled a little black truffle oil over our meatloaf too, but that's totally optional. We enjoyed this meatloaf with oven roasted root vegetables and chevre. YUM!
2 lb. ground chuck
1 lb. lean ground turkey, pork or veal
2 large eggs, lightly beaten
2 Tablespoons Worcestershire sauce
1 Tablespoon grainy Dijon mustard
1 Tablespoon Garlic Herb Mrs. Dash seasoning
2 Tablespoons dry parsley
1/4 cup extra virgin olive oil OR butter
16 oz. washed, sliced, fresh baby bella mushrooms
2 large cloves fresh garlic, minced
1 medium purple/red onion, chopped
1/3 cup cream sherry
1/3 cup dry red wine
salt and pepper
IKEA Sweet Mustard Dill Sauce OR THIS homemade honey dijon mixed with dill
In a large mixing bowl, combine the beef and turkey (or pork or veal), eggs, Worcestershire sauce, grainy dijon, Mrs. Dash and parsley. Use clean hands to incorporate the ingredients so they are evenly mixed and smooth. Set aside.
In a large, heavy skillet, heat 3 Tablespoons of the the olive oil or butter. Once hot, reduce heat to medium-high and add the mushrooms and onions. Cook and stir until mushrooms have released their juices and reabsorbed them. Once they're sticking to the pan, deglaze the pan with the sherry and red wine. Cook until reduced once again and sticky. Remove from heat and set aside to cool.
In a small skillet, heat the remaining Tablespoon of olive oil/butter. Add the minced garlic to the pan and saute, stirring constantly for approximately 1 minute. Remove to the bowl with the rest of the ingredients, once the garlic is just slightly golden and fragrant.
Mix mushroom mixture and garlic into the meat mixture until smooth and all ingredients are evenly distributed. Transfer to the bowl of a 6 to 7 quart Crock Pot or slow cooker and form it into a loaf. Sprinkle the top of the loaf with salt and pepper. Cover and cook on LOW for 6 hours or just until the internal temperature reaches 160 degrees when tested with a meat thermometer.
Remove meatloaf to a pretty serving platter. Slice and plate. Slather each piece with some of the IKEA Sweet Mustard Dill Sauce or the homemade Honey Dijon Sauce + Dill.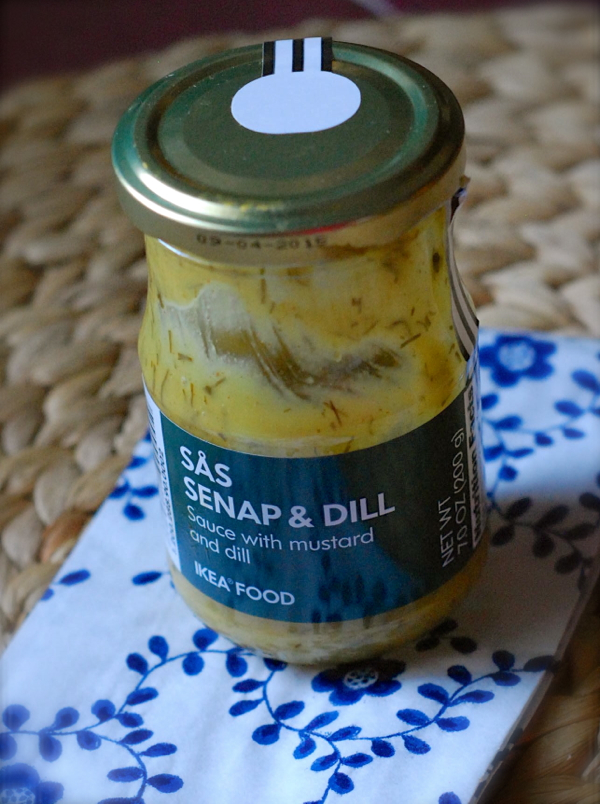 Enjoy!
~Melissa
You may enjoy these related posts: