Print Friendly Version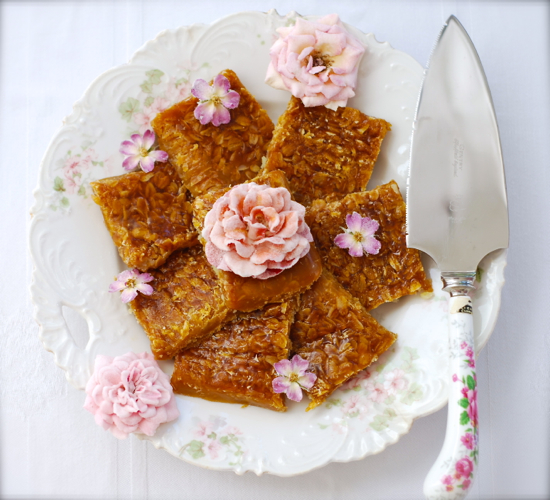 Today I realized that it's been awhile since I posted something sweet for TeaTime Tuesday. I've been craving these caramely, chewy, buttery flapjacks for quite some time, and just happened to be close to a Byerly's this past weekend so I was able to pick up a jar of Lyle's Golden Syrup. Even though this recipe only calls for a heaping Tablespoon of this ambrosia, don't be tempted to substitute it with honey or corn syrup. Lyle's is what makes these little lovelies sing! Flapjacks aren't colorful like some other teatime treats, so I snazzed them up with candied flowers from The Crystallized Flower Company. Karen Toocheck, the lovely creator of this company, makes the prettiest little flowers and I'm looking forward to featuring them all winter while my flower garden sleeps.
3/4 cup butter
3/4 brown sugar or 3/4 cup white sugar mixed with 2 Tablespoons molasses
1 rounded Tablespoon Lyle's Golden Syrup
1 cup rolled oats
Preheat oven to 300 degrees F. Butter an 8 inch square, glass baking dish. Place butter, sugar and syrup in a saucepan and stir until butter melts. Remove from heat. Stir in oats. Mix well. Pour into prepared baking pan. Bake for 35 minutes. Flapjacks will still be syrupy at this point. They will firm up as they cool. Place in refrigerator until completely chilled. Cut into 8 squares. Enjoy with your favorite cuppa tea.
Happy TeaTime Tuesday!
Enjoy!
~Melissa
You may enjoy these related posts: