Print Friendly Version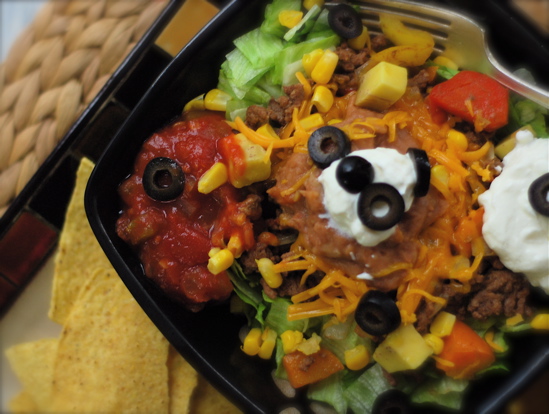 What a beautiful day in the Mississippi river valley. It started out rainy, so I walked up to the little corner market to get the ingredients for creamy chicken and wild rice soup…and we had that for lunch along with fresh baguette from the bakery uptown. Now the sun is out, so salad seems like the perfect thing for dinner on the deck. It's hard to say how many of these sunny days we'll have here in Minnesota, so we have to get while the gettin's good 😉
It was funny taking a photo of taco salad because everyone knows it's not really the prettiest dish. At least not the way I make it. The above photo was taken before I stirred everything together and then topped it with more corn chips and a generous dousing of Sriracha hot sauce. I kept everything all separated and pretty just so I could actually post a photo on the blog. You get the idea.
1 head iceberg or romaine lettuce, shredded
1 lb. lean ground beef or bison
3 Tablespoons olive oil
1/2 large onion, chopped
1/2 large sweet bell pepper, chopped
1 jalapeno pepper, seeded and chopped
2 cloves garlic, minced
3 Tablespoons mild chili powder
1 teaspoon mustard powder
1 Tablespoon cumin
1 can refried beans
2 large, ripe tomatoes, chopped
2 cups frozen corn, thawed and drained
2 avocado, chopped or made into guacamole
8 oz sharp cheddar cheese or cheddar-jack cheese, shredded
sliced black olives
 corn chips, broken up
salsa
Sriracha or Tabasco (or your favorite hot sauce)
sour cream or greek yogurt
fresh cilantro, chopped (optional)
salt and freshly ground black pepper to taste
Shred lettuce and place in individual serving bowls. Heat the olive oil in a large, heavy skillet. Add the beef/bison and brown. Add the onion, bell pepper and jalapeno. Cook until meat is completely cooked and vegetables are tender. Add garlic and spices and cook one minute longer. Remove from heat and set aside.
Heat the refried beans in a small saucepan. Set aside.
Place some of the beef, beans, tomatoes, corn, avocado, cheese, black olives, corn chips, salsa and greek yogurt on each salad. Top with hot sauce, cilantro salt and pepper. Now mix it all up.
Enjoy!
~Melissa
You may enjoy these related posts: