Print Friendly Version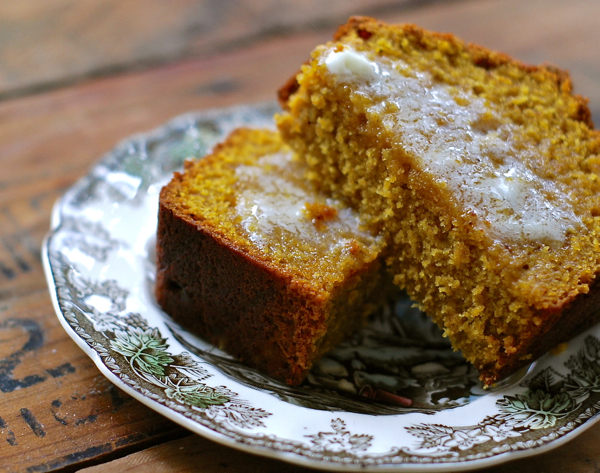 I had such a nice, relaxing time in my kitchen today. It was chilly and pouring rain, so I decided to get some autumn baking done. I played with pumpkins and apples while rewatching the first few episodes of Vampire Diaries on the little DVD player that Jeff installed under our cupboards for me a few years ago. Watching or listening while I work is definitely one of my favorite simple pleasures. Sometimes I turn on music, sometimes I watch movies/Television shows, sometimes I listen to talk radio, and other times I listen to books on CD. Do you do this? What do you enjoy watching/listening to while you work in the kitchen?
Here's the first sweet, pumpkiny treat that I'm going to share with you this season, and there is definitely more good stuff coming! This is SO fragrant, moist and spicy. It went perfectly with our after-school pot of chai tea!
Yield: 2 loaves
~ preheat oven to 350 degrees F. ~
4 cups cake flour
2 teaspoons baking soda
1 teaspoon sea salt
1 teaspoon freshly ground nutmeg
2 teaspoons cinnamon
1/2 teaspoon dried, ground ginger
1/4 teaspoon ground cloves
2 cups brown sugar, packed
2/3 cup pure maple syrup
1 (15 oz.) can pure pumpkin puree (not pie filling)
1 cup light olive oil or vegetable oil
2/3 cup buttermilk OR plain greek yogurt
2 eggs, lightly beaten
Generously oil two (8 x 4) glass loaf pans, or two (6 cup capacity) oven-safe, round bowls.
In a mixing bowl, combine: flour, soda, salt and spices. Mix well with a wire whisk.
In another mixing bowl, combine: sugar, maple syrup, pumpkin, oil, buttermilk and eggs. Mix well with a wire whisk. Slowly add the dry ingredients to the wet ingredients. Stir just until evenly combined and smooth. Don't overmix or your bread will become tough.
Pour batter evenly between the two prepared loaf pans/bowls. Bake 1 hour and 15 minutes to 1 hour and 30 minutes (or just until a wooden skewer comes out clean when inserted into the center of one of the loaves.) Remove from oven. Cool in pans for 15 minutes. Turn out onto cooling racks and allow loaves to cool almost completely before slicing, buttering and serving. This is also a wonderful base for tea sandwiches!
Enjoy!
~Melissa
You may enjoy these related posts: