Print Friendly Version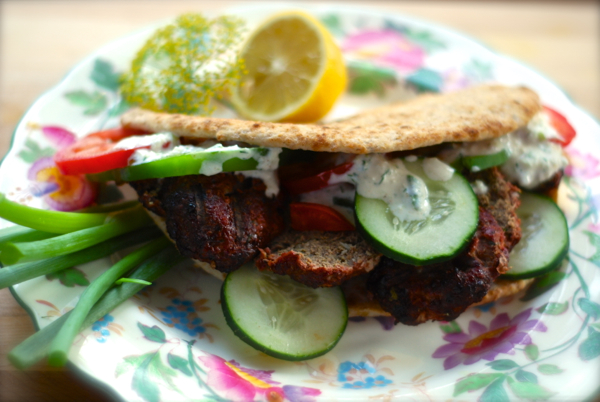 ~ grilled gyros ~
Sometimes the craving for gyros will strike when you are no where near a gyro stand or street fair. This happened to us a few nights ago and I decided to create a recipe we can make at home. These flavorful, healthy sandwiches can be made using any meat you like. If you like to strictly use extra lean ground beef or bison just remember to cook them a little less so the meat doesn't turn out too tough. I like to use a combination of ground beef, and pork…or ground beef pork and lamb if I can find it.
1 lb. ground beef/pork combination
1/2 onion, finely chopped
1 large egg
3 teaspoons fresh lemon zest
1 Tablespoon fresh oregano, chopped fine
1 Tablespoon fresh parsley, chopped fine
1/2 teaspoon fresh rosemary, chopped fine
1 teaspoon garlic powder, or 1 large clove garlic, minced
1/2 teaspoon curry powder
1/2 teaspoon cumin
1/2 teaspoon smoked paprika
1/4 teaspoon ginger
1/4 teaspoon nutmeg
1 Tablespoon tahini
Mix all ingredients well, until evenly incorporated. Form into about 10 small patties and grill until meat thermometer reads that the meat has reached the correct temperature. Don't over cook.
Serve in pita (we like whole grain) with sliced tomatoes, cucumbers, sweet bell peppers, green onion, lettuce or spinach, and kalamata olives. Drizzle with a generous amount of tzatziki, and serve with a side of grilled baba ghanouj!
Enjoy!
~Melissa
You may enjoy these related posts: