Print Friendly Version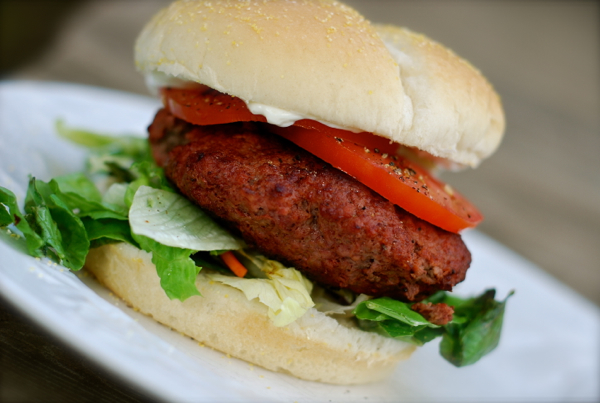 These lazy summer days call for easy, delicious food. Here's a tried and true favorite in our house.
The California Burger of the Midwest (and sometimes on the East Coast) is simply a burger topped with lettuce, tomato, mayonnaise and (sometimes) onion. That's it. I started eating these when I was little, and back then I didn't care for onions. I still don't eat my California burger with onions, even though I love onions now. That's just how I've always eaten them. I love CA burgers because they're simple and perfect. No extra embellishment necessary.
I know that out on the West Coast when you order a California burger you'll get a cheeseburger with bacon and avocado. Also good, but this isn't that.
To start out you'll want your favorite grill master manning the grill. In our house that would be my husband. He's such a great grill chef. You'll also want a recipe for moist, delicious hamburgers, and you'll start by using ground chuck. In all of my other recipes that call for hamburger or ground beef, I'll say to use extra lean. Not so when grilling. You want enough fat in the meat so you don't end up with a dried out hockey puck in the end. If you'd like, you can follow this link and use my SECRET RECIPE. It's awesome. You're welcome.
for 4 big California burgers:
2 lb. ground chuck, formed into patties
salt and pepper
good quality hamburger buns
iceberg or romaine lettuce
sliced tomatoes
real mayonnaise
sliced onion, (optional)
Form ground chuck into 4 patties, and sprinkle salt and pepper over the top. Grill over charcoal until done to your liking. I like mine medium-rare.
Toast or grill buns if you like, and place some lettuce on the bottom of the bun followed by a grilled burger, tomato, onion (if using.) Slather some mayonnaise on the top part of the bun and place on top of burger. Serve with fries or chips and a pickle.
Enjoy!
~Melissa
You may enjoy these related posts: