Print Friendly Version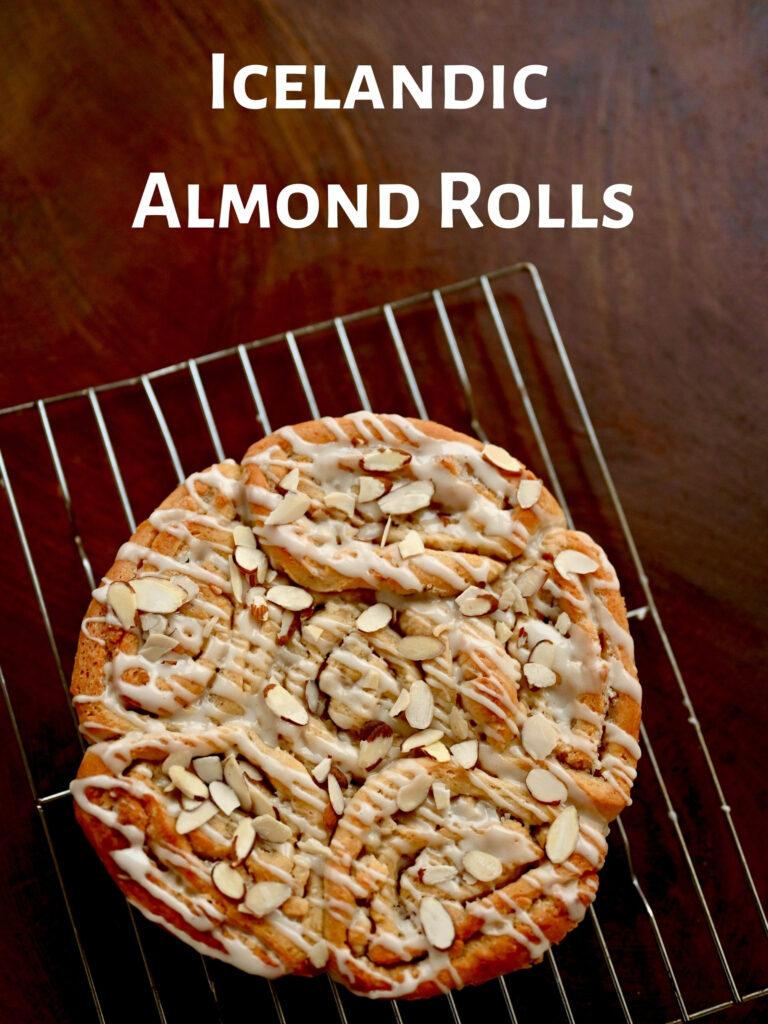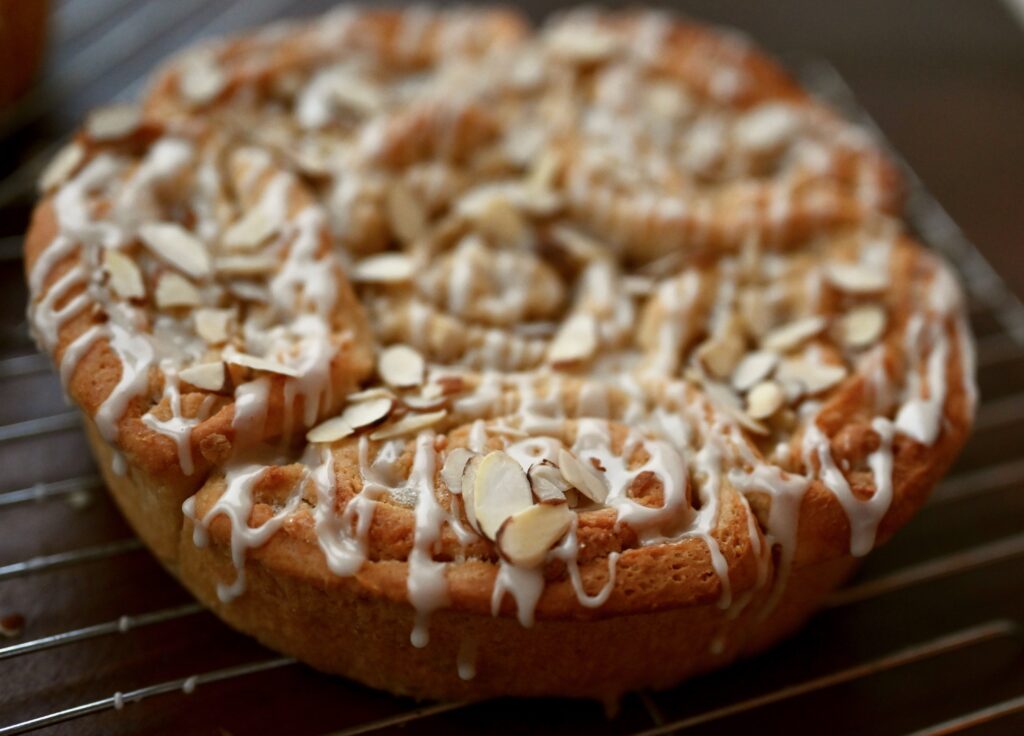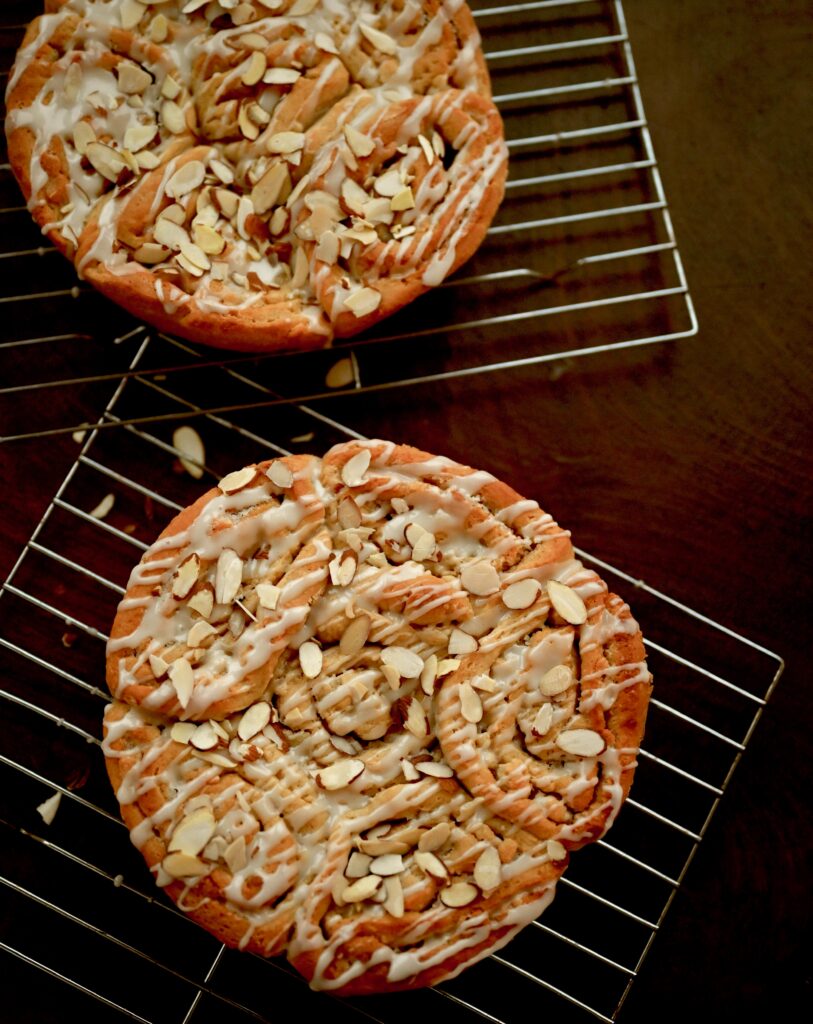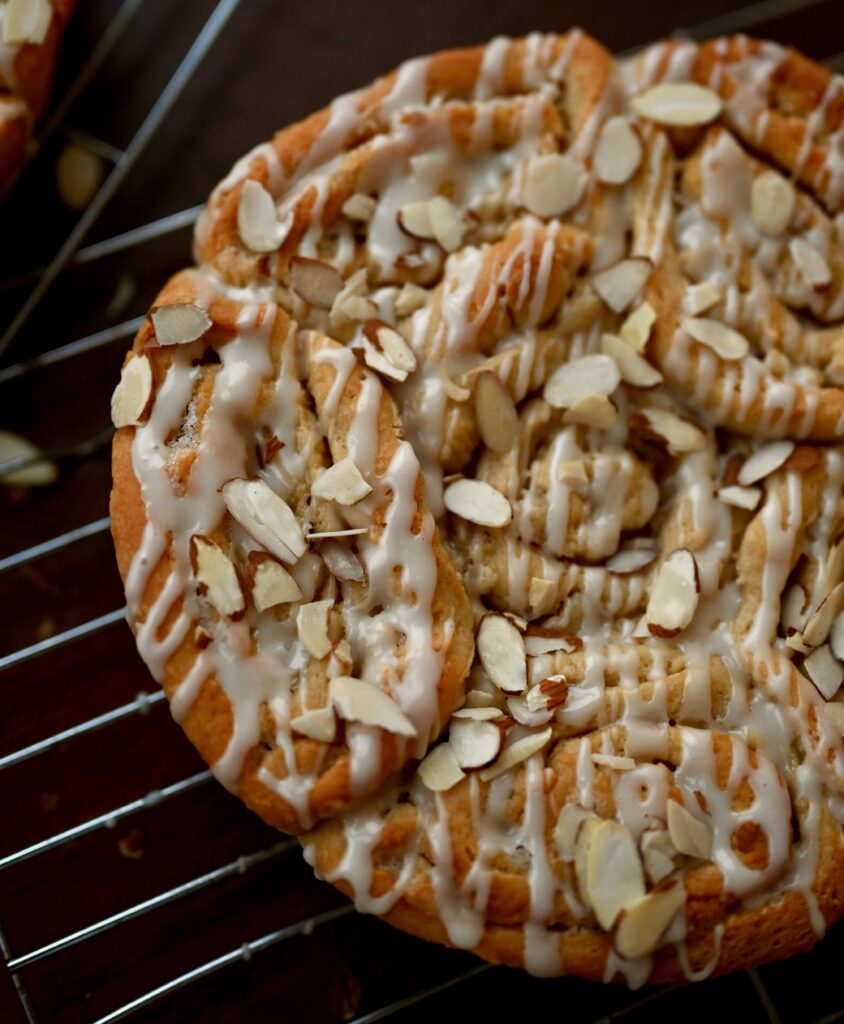 Hello, Lovelies.
I'm the person who almost always opts for the almond treat at a bakery or coffee shop. I used to be a chocolate fanatic, and while I still love that dark, rich temptress, she will lose every time when competing with something light and almondy. Sometimes it's an almond-filled croissant, other times it's a generous slice of Beehive Cake, but most recently (when I can find a vegan one) it's these little Icelandic Almond Rolls. They look like cinnamon rolls (which I also adore,) but they're quite different. They're filled with almond paste (which tastes exactly like marzipan,) butter, and sugar, and drizzled with a light, lemony almond glaze. I am OBSESSED with them.
Needless to say I don't make them often because they sing my name like little sirens (the evil mermaid kind of sirens). I can hear their call throughout the day and I find myself giving in. I rationalize why one for tea time seems like a great idea, even though I already had one for breakfast. Help!
I swear I'm not a sugar fiend. Unless these are in my kitchen.
Recently I've been reading several cute little books and magazine articles on the elements of Hygge (pronounced hoo-ga.) Hygge is defined as "a quality of coziness and comfortable conviviality that engenders a feeling of contentment or well-being." It's regarded as a defining characteristic of Danish culture. Those Danes have romanticized wearing your jammies and eating bakery items in front of the fireplace while reading a book or doing something domestic like knitting. Um. Yes, please. Sign me up.
So, anyway, all of this Hygge talk got me thinking about pastries that go well with coffee. Of course my mind wandered to these…
Makes 12 Icelandic Almond Rolls:
~ preheat oven to 350 degrees F. ~
for the dough:
2 cups unsweetened almond milk
1/2 cup melted butter (we use Organic Earth Balance)
1/4 cup sugar
2 and 1/4 teaspoon active dry yeast
5 and 1/2 cups all purpose flour
1 teaspoon salt
Generously rub 2 (10 inch round) baking pans with butter. I use the disposable aluminum pans you can buy at the grocery store when giving these as gifts.
In a large bowl, whisk milk, butter, and sugar. Mixture should be warm, but not hot. Place in microwave for a few seconds until warm, if needed. (110 to 115 degrees F.) Sprinkle with the yeast. Let sit for a few minutes. Add flour and salt to milk mixture. Stir to combine. Cover with buttered plastic wrap. Place in a warm place (like on top of the oven) and allow to rise 1 hour (or until doubled in size.)
Once dough has risen, remove plastic wrap. Turn out onto a floured surface and knead lightly (about 10 turns.) Add flour as necessary. Just until dough isn't sticky. Don't add too much extra flour or your rolls will become tough.
for the filling:
Roll a large rectangle, approximately 1/2 inch thick, onto a floured surface. Spread:
3/4 cup softened vegan butter evenly over the surface
Then sprinkle on 3/4 cup white sugar
followed by 8 oz. of crumbled almond paste pieces
Roll up, starting with a short side of the dough rectangle. Seam side, down, cut 12 (1 and 1/2 inch rolls.) Place 6 in each of the buttered baking pans. Lightly cover each pan with buttered plastic wrap and set in a warm place to rise again (30 to 45 minutes, or until larger but not necessarily doubled in size.)
Remove plastic wrap and bake in preheated 350 degree oven for 30 to 40 minutes. Rolls should be a light golden brown and cooked through.
Remove from oven and cool completely before gently removing from pan. Once removed from pan, place each round of rolls on a baking rack and drizzle with this almond glaze:
For the glaze:
1 cup powdered sugar
1 Tablespoon almond milk
1 Tablespoon fresh lemon juice
1 teaspoon pure almond extract
Whisk until smooth. Drizzle over rolls. Top rolls with sliced almonds.
Enjoy!
~Melissa
You may enjoy these related posts: