Print Friendly Version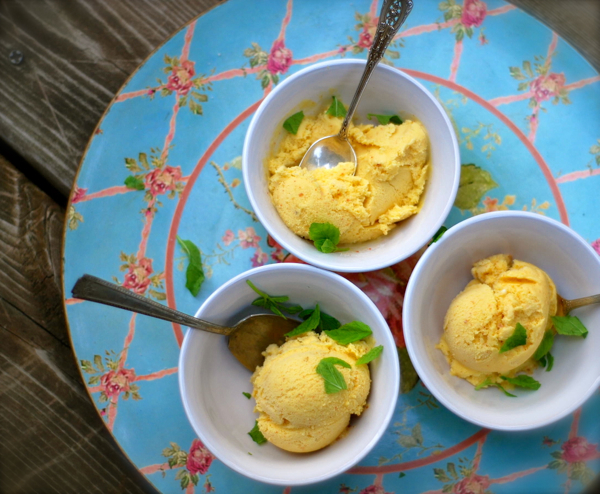 Feelin' hot hot HOT. It's a steamy and sunny 85 degrees in Red Wing today. Gracie and I walked up to get our iced tropical green tea at Caribou and now we're back at home, enjoying the air conditioning and contemplating a possible beach excursion this evening.
Here's a lovely, cooling dessert with a kick! It's healthy and gorgeous and it tastes oh so good after a dinner of grilled fare on the deck.
1 (14 oz.) can full fat coconut milk, chilled in refrigerator
2 perfectly ripe mangoes, peeled, pitted and sliced
1 large banana, peeled and sliced
juice of 1/2 large, juicy lime
1/3 cup raw honey
3/4 teaspoon cayenne pepper
fresh mint leaves (garnish)
coarse pink Himalayan sea salt (garnish)
Place coconut milk in a large mixing bowl. Place mango and banana in the bowl of a blender. Puree until smooth and add fruit puree to coconut milk in bowl. Add lime juice, honey and cayenne. Whisk until smooth and evenly blended. Pour into an electric ice cream maker and freeze according to the directions that come with your machine. (I allowed mine to go for 1/2 hour.) Transfer ice cream to a container with a tight fitting lid and place in freezer until ready to serve.
Garnish with fresh mint leaves and a sprinkle of the coarse, pink, Himalayan sea salt.
Enjoy!
~Melissa
You may enjoy these related posts: