Print Friendly Version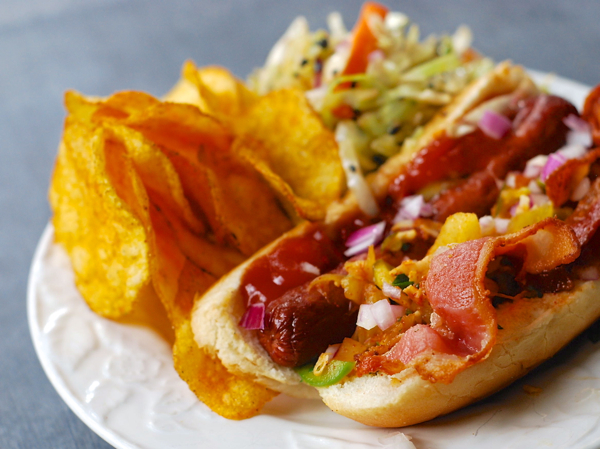 Every once in awhile you have to indulge in a good, old fashioned hot dog! I know they're not healthy. Everybody knows that. It doesn't mean you can't have one or two a year 😉 When I do have one, I make sure it's the best quality I can find. Skin on hotdogs, such as Boar's Head, for example, are amazing. Ball park-style "franks" such as Hebrew National, Ball Park Franks or Nathan's are really good too if you prefer a dog with no skin and less "snap".
We made these for our 4th of July celebration and gave them a Hawaiian twist. I made up a batch of my Spicy Pineapple Pickle Relish to go with them. Good call, if I do say so myself.
for 4 people, 2 dogs each:
8 good quality hot dogs, grilled over charcoal (We used Hebrew National)
8 slices of bacon, fried until crispy
1 batch Spicy Pineapple Pickle Relish, recipe below (you'll have extra)
1/2 cup purple onion, chopped
organic tomato ketchup
your favorite Dijon mustard (optional)
8 good quality, bakery hot dog buns, buttered and grilled or toasted
~ Spicy Pineapple Pickle Relish ~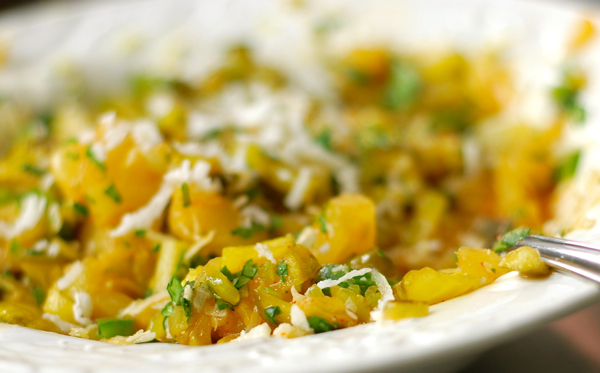 1 (8 oz.) can pineapple chunks, drained well and coarsely chopped
1/2 cup bread and butter sweet pickles, drained well and chopped
1 jalapeno pepper, stem removed and chopped
1/4 cup sweetened, shredded coconut
1/4 cup chopped cilantro
1 to 2 Tablespoons white wine vinegar
2 Tablespoons olive oil
1 to 2 Tablespoons honey
2 teaspoons teriyaki sauce
2 teaspoons Sriracha hot sauce
1 teaspoon smoked paprika
1/2 teaspoon cayenne pepper (less or more, to taste)
1/2 teaspoon freshly ground black pepper
1/2 teaspoon coarse sea salt
Mix all ingredients for relish in a bowl and chill until ready to serve.
Grill hot dogs until warmed through and crispy on the outside. Fry bacon, drain well and blot off excess drippings. Place one hot dog on each grilled/toasted bun along with a slice of bacon. Top with some of the relish, some chopped onion, Dijon and ketchup. Serve with your favorite coleslaw and kettle chips.
Enjoy!
~Melissa
You may enjoy these related posts: