Print Friendly Version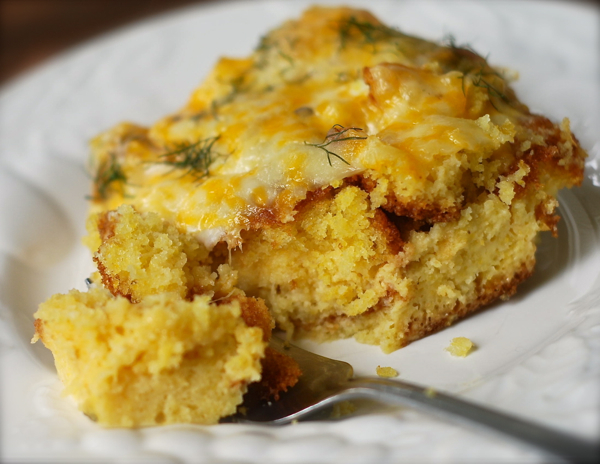 This is a heavenly, savory pudding with lots of gooey cheese. The cornbread and eggs puff up while it bakes and create a fluffy "feather bed" of deliciousness. Serve with freshly squeezed fruit juice (we like passion fruit-pineapple,) candied bacon, and tea. This recipe was loosely adapted from one of my favorite books, Soup & Bread, by Crescent Dragonwagon.
~Serves 6 to 8 as an entree ~
1 recipe skillet-sizzled buttermilk cornbread (made the day before)
1 teaspoon freshly ground black pepper
1 heaping cup shredded Swiss cheese
1 heaping cup shredded Colby Jack or Cheddar Jack cheese
8 large eggs
1 cup milk or buttermilk
1/2 cup cream
1/2 cup plain greek yogurt
1 Tablespoon Sriracha hot sauce (or your favorite)
2 teaspoons Worcestershire sauce
1 Tablespoon fresh dill, chopped
Make the cornbread the day before you want to make this breakfast bake. Crumble the cornbread into large chunks on a platter and cover with a pie screen. Allow to sit out to dry on your counter overnight.
Preheat oven to 350 degrees F. Spray a 9 x 13 glass baking dish with non-stick cooking spray. Spread the cornbread chunks in an even layer in the prepared pan. Sprinkle with the pepper. Pat the cheese, in an even layer, over the top of the cornbread.
Whisk the eggs, cream, milk, yogurt, Sriracha and Worcestershire sauce in a large mixing bowl. Beat well. Pour this evenly over the cornbread and cheese. Sprinkle with the fresh dill.
Bake until the eggs are set, the top is a light golden brown, and slightly puffed. (Approximately 30 minutes.) Take care not to over-bake.
Cut into squares, plate and serve. Salt and pepper to taste. Drizzle a little extra hot sauce over the top, if desired.
Enjoy!
~Melissa
You may enjoy these related posts: