Print Friendly Version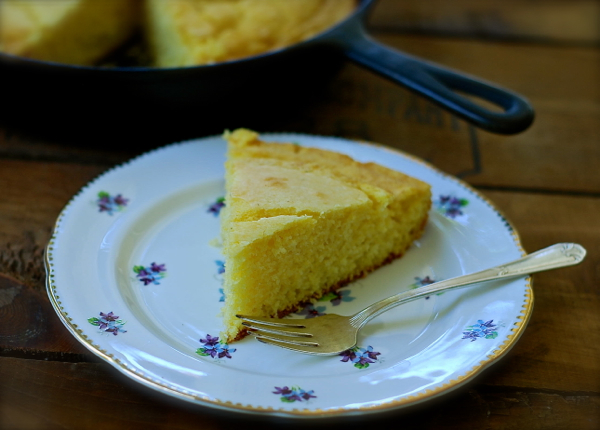 This is the lightest, fluffiest, butteriest (is that a word?) cornbread I've ever made. It's an essential ingredient in my favorite "Feather Bed Breakfast Souffle" recipe which I'll be sharing tomorrow. This cornbread is also awesome with simple black eyed peas & bacon, or warmed and drizzled with real Minnesota maple syrup. YUMMY!
1 cup stone-ground yellow cornmeal
1 cup all-purpose flour
1 Tablespoon baking powder
1/4 teaspoon sea salt
1/4 teaspoon baking soda
1 and 1/4 cup buttermilk
1 large egg
1/4 cup sugar
1/4 cup peanut oil
non-stick cooking spray (such as Pam or Baker's Joy)
1/4 cup butter
Preheat oven to 375 degrees F. In a big mixing bowl, combine the cornmeal, flour, baking powder, salt and baking soda. In another mixing bowl, combine the buttermilk, egg, sugar and peanut oil.
Spray a 10 inch cast iron skillet with the non-stick cooking spray. Place it on a burner over medium-high heat. Add butter and heat until melted, slightly browned and just starting to sizzle.
Add the wet ingredients to the dry ingredients and stir until just combined and evenly moistened. Don't over-stir or your cornbread will become tough. Pour all batter into hot, sizzling butter in the skillet. Immediately transfer the skillet to the oven and bake until golden brown (approximately 25-30 minutes.) Cut into wedges and serve.
Enjoy!
~Melissa
You may enjoy these related posts: