Print Friendly Version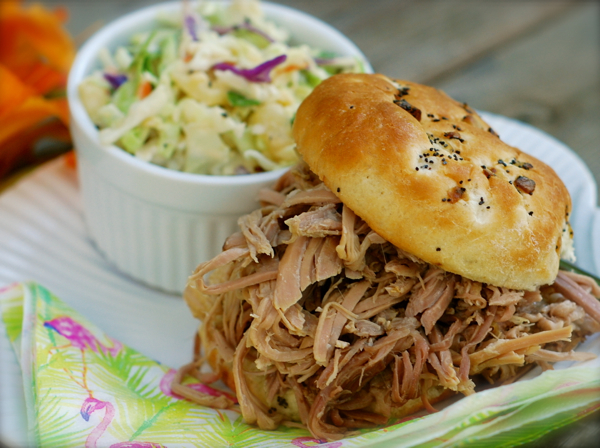 Aloha, Friends!
My darling friend Ann, over at Sumptuous Spoonfuls Blog, made Kalua Pig for a recent Luau she attended (among other Hawaiian delicacies.) I just love her blog and photos. She's such a talented lady, and definitely one of my Facebook "besties." Hi, Ann! *waves.
Authentic Kalua Pig is cooked in an imu, which is an underground oven. You can read more about that HERE, if you like. The history behind this age old tradition is interesting. Jeff and I enjoyed authentic Kalua Pig while visiting Maui. We had it "plate lunch" style once, and the second time it was part of an elaborate luau in Lahaina called The Feast at Lele. Both times it was succulent, flavorful, and completely wonderful!
Ann made her Kalua Pig in the oven and her recipe inspired me! Doesn't it look amazing?
I decided to try making an easy version for the slow cooker, and it was one of the best, simplest recipes for pork I've ever had! I think you're going to love this. We served ours with coleslaw mixed with pineapple tidbits and it was so good! Gracie doused hers with BBQ sauce, which was also good. You could try drizzling a little teriyaki over the pork, if you like, but I thoroughly enjoyed my sandwich without the sauce and on a toasted onion bun. The flavor of the pork is good all by itself.
4 to 6 lb. boneless pork shoulder/pork butt roast
1 Tablespoon Hawaiian sea salt, Pink Himalayan sea salt, or regular, coarse sea salt
2 teaspoons liquid smoke
Pat pork roast dry using paper towels. Place in slow cooker. Pour liquid smoke over the meat and rub it all over the surface of the roast. Then, rub the salt all over the roast. Cover slow cooker and set it on LOW for 7 to 12 hours. Check it at the 7 hour mark, and every hour thereafter, until the meat is very tender and falling apart. It should shred easily.
Shred with two forks and mix it into the liquid. Remove from slow cooker with a slotted spoon and serve on toasted buns with desired toppings.
Enjoy!
~Melissa
You may enjoy these related posts: