Print Friendly Version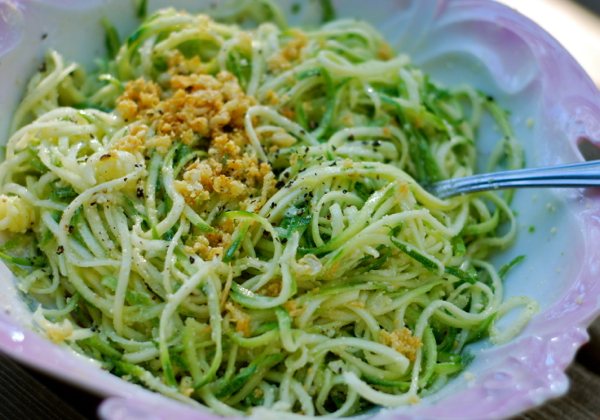 I am in LOVE with the Vegetti spiralizer. You can make veggie noodles of every kind, and my favorite are zucchini noodles (also referred to as "zoodles".) I have discovered that I don't like to cook them. Even a little bit of cooking will make them soggy and watery. The best way to eat them is raw and cold.
This salad goes together in a flash and is wonderful tossed with the minimal ingredients listed below. However, if you like the idea of zucchini spaghetti, you certainly can pour a little warmed marinara or blender pasta sauce over the top of this. Other fun toppings include: fresh pico de gallo or mango key lime salsa!
3 medium zucchini, unpeeled and washed
1/4 to 1/3 cup extra virgin olive oil + 2 Tablespoons for sauteing the garlic
1/2 cup Parmesan cheese, (grated or powdered type)
4 large garlic cloves, minced
freshly ground black pepper, to taste
Using a Vegetti Pro or Spiralizer, turn the zucchini into zoodles according to manufacturer's instructions.
Place zoodles in a medium serving bowl. Toss with the olive oil and Parmesan cheese until evenly incorporated.
Place the remaining 2 Tablespoons olive oil in a skillet over medium heat. Once hot, add minced garlic. Saute until light golden brown and fragrant (30 seconds to 1 minute.)
Toss garlic and oil in with the zoodles. Season to taste with black pepper.
Enjoy!
~Melissa
You may enjoy these related posts: