Print Friendly Version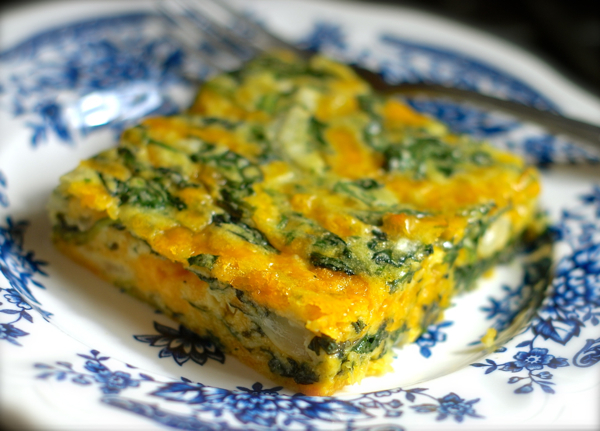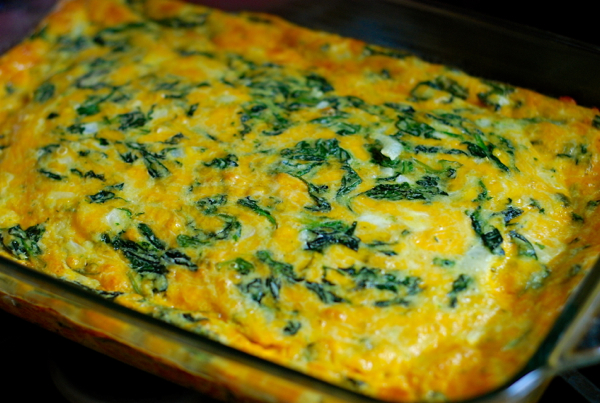 Looking for something to serve for easy breakfasts? This is an awesome recipe. It goes together fast and you just cut it into squares like a cake pan quiche. We like to make breakfast sandwiches by placing a square on a toasted bagel and topping with your favorite breakfast meat. (Sans the meat for my vegetarian friends.) Serve with fresh fruit! Yum!
~ preheat oven to 350 degrees F. ~
4 Tablespoons butter, melted
1 cup flour
1 teaspoon sea salt
3 large eggs, beaten
3/4 cup milk
1 teaspoon baking powder
1 small onion, chopped
1 lb. sharp cheddar cheese, grated
1 and 1/3 lb. fresh spinach, wilted and squeezed almost dry
Melt butter in 9×13 glass baking pan as oven preheats. Mix the rest of the ingredients together in a large bowl. Be sure to remove most of the moisture from the spinach before adding it to the mix. Stir just to combine. Pour into hot pan with the butter in it. Smooth the top with a rubber spatula. Bake for approximately 40 minutes or just until set. (Broccoli may be substituted for the spinach.)
Yield: 8 bars
Enjoy!
~Melissa
You may enjoy these related posts: