Print Friendly Version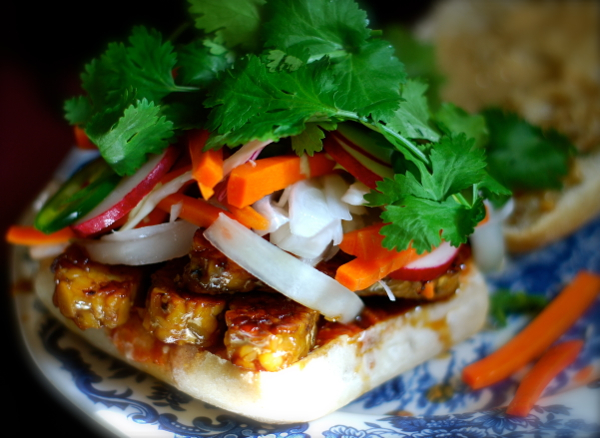 There's only one thing to do when you're craving a banh mi sandwich. Ya gotta EAT ONE. Nothing else will satisfy the craving. Since I'm no longer eating pork, I got to work creating a vegan banh mi using tempeh. It was nothing short of outstanding!
Be sure to click on the links in this post to find the recipes for my quick pickled carrots and quick pickled onions. They are a must for this sammy!
for one tempeh banh mi sandwich:
4 oz. of your favorite, organic tempeh (I love Trader Joe's brand)
1/4 cup teriyaki sauce (soyaki from Trader Joe's is awesome)
2 Tablespoons fresh, grated ginger root
1 large clove garlic, minced
a small handful of cabbage slaw
quick pickled onions (any color onion will do)
thinly sliced radishes
thinly sliced cucumber
thinly sliced jalapeno
a handful fresh cilantro
hot sauce or hot kimchi
crusty roll (such as baguette or ciabatta)
vegan mayonnaise (we use Just Mayo)
tahini
Slice tempeh into thin strips and Place it in a small container along with the teriyaki sauce, ginger, and garlic. Allow to marinate 2 to 8 hours in fridge.
While tempeh is marinating, make your pickled onions and pickled carrots and place them in fridge to chill.
Heat a little olive oil over medium heat in a heavy skillet. Remove tempeh from marinade (set marinade aside.) Place tempeh in hot oil and fry for a few minutes on each side or until hot all the way through and golden brown. Once tempeh is done, lower heat and add the marinade to the pan. Cook until reduced and slightly sticky, watching closely so it doesn't burn.
Spread mayonnaise on roll bottom. Top with tempeh strips, pickled onion, pickled carrots, cucumber, radish, slaw, jalapeno, cilantro and kimchi/hot sauce. Drizzle a little bit of the reduced sauce over sandwich. Top with cilantro. Spread a little tahini on the top half of the roll and then place it on the sandwich.
Save the rest of the sauce for another sandwich or as a  dip for veggie nuggets or crudite!
Enjoy!
~Melissa
You may enjoy these related posts: