Print Friendly Version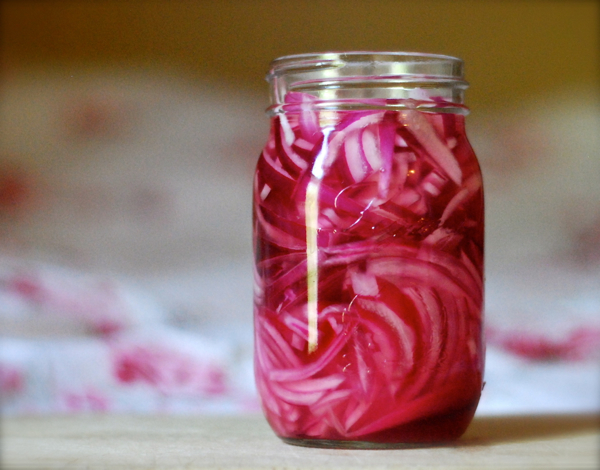 A simple, delicious condiment that adds amazing flavor to so many things! Once you start making pickled onions, I doubt you'll ever stop. I always have a jar on hand for: porketta roast, tacos, salads, fajitas, sub sandwiches, burgers, bratwurst, hot dogs, pulled pork, grilled cheese sandwiches, and curry dishes!
1 large red onion, peeled and cut into thin slivers
3/4 cup white vinegar OR apple cider vinegar
3/4 cup warm water
2 Tablespoons sugar
1 teaspoon sea salt
Pack the slivered onion into a clean, glass canning jar. Place vinegar, water, sugar, and salt in a stainless steel or glass mixing bowl. Whisk until sugar and salt have completely dissolved. Pour over onions in jar. Top jar with a tight fitting lid. Refrigerate for at least 4 hours prior to serving. These pickled onions will keep, refrigerated, for up to 10 days.
Enjoy!
~Melissa
You may enjoy these related posts: