Print Friendly Version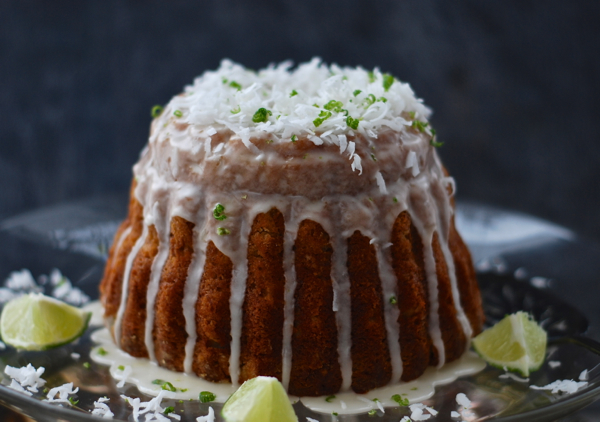 It's been another busy day. Gathering inspiration for the tea book…so many ideas floating around in my head, I've decided to go through my Inspiration Files and try to organize them (somewhat.) Do you have a file cabinet for organizing your ideas? This is pre-Pinterest style, I know…but there's something soothing about having physical paper I can hold and file that works really well for me. I'll blog about this some time.
Here's a pretty recipe I dreamed up a couple weeks ago. It's another riff on banana bread…so if you've got a bunch of bananas that you need to use up, you've come to the right place.
preheat oven to 350 degrees F.
for the cake ~
2 cup all purpose flour
1 teaspoon baking soda
1 teaspoon salt
1 and 1/4 cup brown sugar
4 Tablespoons unsalted butter, softened
2 large eggs
4 large, ripe bananas, mashed
1/4 cup plain yogurt
3 Tablespoons fresh lime juice
1 teaspoon pure vanilla extract
2 teaspoons coconut extract
for the glaze & topping ~
1/2 cup powdered sugar
1 and 1/2 Tablespoons lime juice
1 teaspoon coconut extract
1/2 cup flaked coconut
2 teaspoons lime zest
Generously butter a cake or loaf pan. Coat with flour.
In a large mixing bowl, combine the flour, baking soda and salt. In a separate mixing bowl, combine the brown sugar, butter, eggs, bananas, yogurt, lime juice, vanilla and coconut extracts. Mix the wet into the dry until just combined and evenly incorporated.
Pour cake batter into prepared pan. Bake for about an hour, or just until a cake tester or wooden skewer comes clean when inserted into cake. Cool the cake for 10 minutes in the pan. Carefully remove from pan and transfer to a cooling rack to cool completely. Place completely cooled cake on a pretty cake stand or plate. Combine glaze ingredients and pour over cake so it drips down the sides. Top cake with the flaked coconut and lime zest.
Enjoy!
~Melissa
You may enjoy these related posts: