Print Friendly Version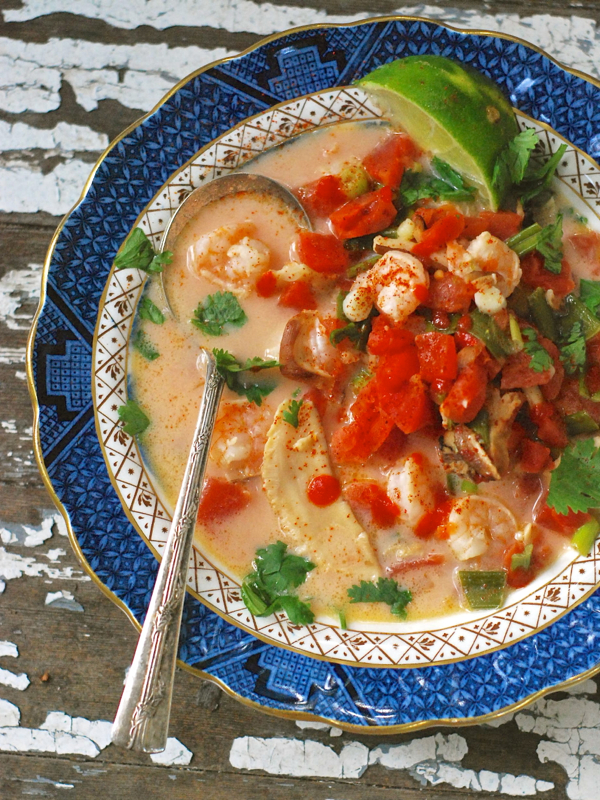 Some days call for soup, even in the middle of summer. There are SO many great hot and cold summer soups that celebrate warm weather flavors… like the fresh tomatoes in gazpacho, lime coconut and ginger in thai chicken soup, lemons in Greek lemon chicken soup with orzo, fresh garden veggies in victory garden soup, sweet garden peas in cold pea soup, the lovely, briny broth that's created when you make mussels in white wine and garlic… and so, so many more!
Here's a summer favorite in our house. Tom Yum is a simple, fresh delicious summer soup that features fresh shrimp, coconut, tomatoes and lime. Serve it with buttered baguette and a glass of sauvignon blanc.
~ serves 4 to 6 people ~
1/4 cup olive oil, divided
4 cups organic, low sodium chicken broth or stock
2 cups full fat, canned coconut milk
2 Tablespoons sriracha hot sauce
2 cups shiitake mushroom slices
2 large garlic cloves, minced
2 cups canned fire roasted, petite diced tomatoes + juice from can
6 scallions, thin sliced
1 lb. fresh shrimp, peeled, deveined and tails removed
1/4 cup fish sauce
zest and juice of 1 large, juicy lime
1 cup fresh cilantro, chopped
cayenne pepper and sea salt, to taste
In a soup pot, mix 2 Tablespoons of the olive oil, broth, coconut milk and sriracha. Whisk to combine.
In a heavy skillet, heat the remaining olive oil. Add the mushrooms and garlic and saute until tender and garlic is fragrant. Add this mushroom mixture to the soup pot. Add tomatoes and scallions. Bring to boil. Reduce heat to simmer. Simmer gently for 7 minutes. Add shrimp. Cook 1 minute or just until shrimp is pink and cooked through. Remove from heat. Stir in fish sauce, lime juice and lime zest. ladle into bowls. Top with cilantro, cayenne and sea salt.
Enjoy!
~Melissa
You may enjoy these related posts: