Print Friendly Version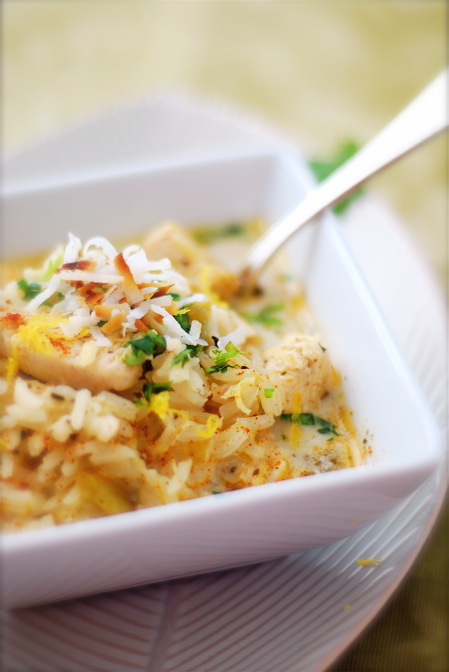 "The two basic items necessary to sustain life are sunshine and coconut milk." ~Dustin Hoffman
This lovely soup makes a wonderful first course for a summer meal or a delicious light lunch. It's good for you and so easy to put together.
3 large, boneless, skinless chicken breasts
3 Tablespoons extra virgin olive oil
1/2 cup dry white wine
3 Tablespoons fish sauce
Juice of one lemon
1 and 1/2 quarts chicken stock
zest of one lemon (save a little for garnish)
2 inches fresh ginger, peeled and grated
3/4 cup Basmati or jasmine rice
15 oz can coconut milk
2 fresh chilies, chopped fine, seeds and cores removed
chopped cilantro, cayenne, lemon zest and toasted coconut for garnish
Cut the chicken into chunks and blot well. Heat the olive oil in a heavy Dutch oven. Once heated, cook the chicken chunks until done. Set aside. In the same pot, bring wine, stock, fish sauce, lemon juice, lemon zest, and ginger to a boil. Add Basmati rice. Set flame to a low simmer, and cover. Cook 15 minutes, or until rice is done. Add coconut milk and chilies. Heat through. Chop up the chicken, combine all ingredients. Garnish liberally with cilantro and toasted coconut…sprinkle on a little lemon zest and cayenne too.
Enjoy!
~Melissa
You may enjoy these related posts: