Print Friendly Version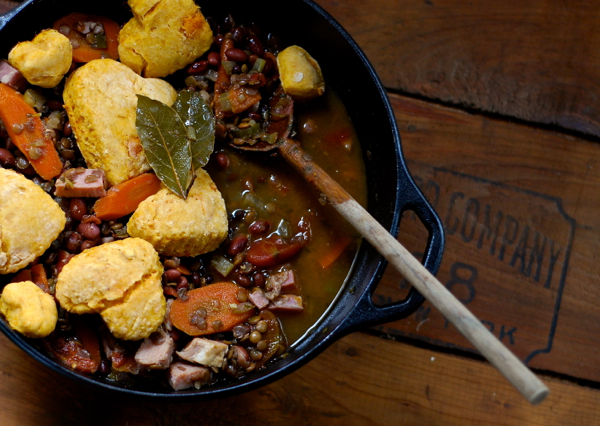 I made a big kettle of this yummy stew and we munched on it over the weekend. It's especially good with sweet potato biscuits, so I made up a batch of them too. This is delicious, healthy and oh-so-cozy. If you're a vegetarian, simply substitute your favorite vegetable stock in place of the chicken stock, add 2 teaspoons smoked paprika, and omit the ham. Make the sweet potato biscuits while the soup is simmering, so everything is done at the same time.
for the bean stew:
1 cup dry red beans
1 cup dry black beans
1 cup red or green lentils
10 cups chicken stock or broth
2 Tablespoons extra virgin olive oil
1 large onion, chopped
3 large carrots, peeled and sliced on the diagonal
2 celery stalks (including green tops), chopped fine
3 large cloves garlic, minced
2 (15 oz.) cans stewed tomatoes, undrained
1 teaspoon curry powder
2 bay leaves
1/4 cup fresh parsley, finely chopped (or 2 Tablespoons dry)
1 teaspoon Chipotle powder
1 lb ham steak, cubed
freshly grated Parmesan cheese, optional
sea salt and freshly ground black pepper to taste
Rinse and sort beans in a colander. Pour washed beans into a stock pot. Cover generously with water and allow them to soak for 8 to 12 hours.
After soaking time is done, pour beans into a colander and rinse again. Discard all of the liquid.
Place the beans back in the stock pot. Add the broth. Set aside.
In a heavy bottomed skillet, heat the olive oil. Once olive oil is hot, add the onions, carrots and celery. Saute over medium heat until tender and translucent. Add the garlic and saute an additional minute. Add the contents of the skillet to the contents of the stock pot, along with the stewed tomatoes, curry powder, bay leaves, parsley and Chipotle. Bring to a boil and then reduce heat to a gentle simmer. Place cover on stock pot so it's slightly askew, and allow to simmer for 3 hours, stirring occasionally, until beans are very tender. Be sure not to under-cook. Beans should be very tender, but not mushy.
Once beans are tender, add the ham and heat through. Remove the bay leaves. Adjust seasonings to your liking. Ladle soup into bowls and serve with freshly grated Parmesan cheese grated over the top and sweet potato biscuits (recipe below.)
for the sweet potato biscuits:
2 and 1/2 cups AP flour
4 teaspoons baking powder
2 Tablespoons brown sugar
1 teaspoon regular or smoked paprika
1 teaspoon Lawry's seasoned salt
3/4 teaspoon cayenne pepper
1 teaspoon onion powder
1/8 teaspoon nutmeg
8 Tablespoons butter, chilled and cut into small pieces
2 cups mashed, baked sweet potatoes
1/4 cup buttermilk
Stir the flour, baking powder, brown sugar, paprika, seasoned salt, cayenne and nutmeg together in a mixing bowl, using a wire whisk to combine the ingredients completely and evenly.
Cut the butter into the flour mixture until coarse, uniform crumbs form. (Using your fingers, pastry cutter or fork.)
In a small bowl, combine the mashed sweet potatoes and buttermilk.
Add the sweet potato mixture to the dry ingredients until just incorporated.
Place dough on a lightly floured surface, pat to 1 inch thickness, and cut with a regular or heart-shaped biscuit cutter (I used heart cutters of all sizes, and baked them separately according to size because smaller biscuits will bake faster than large biscuits.)
Place biscuits, 2 inches apart, on lightly greased cookie sheets. Bake at 400 degrees F for 10-12 minutes or until set and golden brown on bottoms and edges. Cool on wire racks.
Enjoy!
~Melissa
You may enjoy these related posts: