Print Friendly Version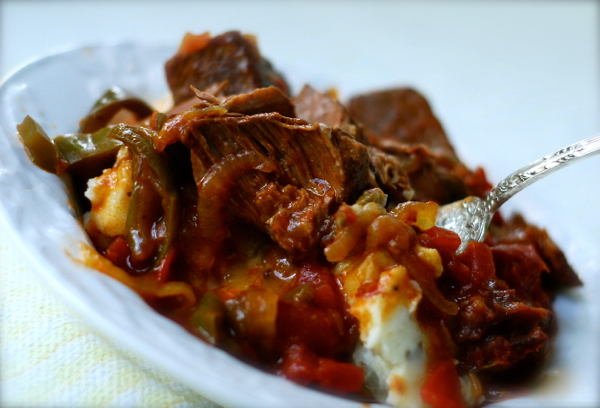 Swiss steak reminds me of when I was little and my grandparents would come to visit. They'd make up big batches of the stuff and we'd pile it on steaming hot sour cream mashed potatoes.
Here's a way to enjoy this comfort food meal without hardly any fuss. The slow cooker does all the work! Just make sure you allow it to cook long enough. You know it's done when the meat is super tender and falling apart.
4 lb. London Broil Beef Steak cut into 2 inch cubes
flour for dredging
olive oil for browning
2 large onions, sliced
2 large green peppers, seeded and sliced
1/2 cup red wine or sherry
1 (15 oz.) can low sodium beef broth OR homemade beef stock
2 (15 oz.) cans petite diced tomatoes including juice
1 (6 oz.) can tomato paste
2 Tablespoons Worcestershire sauce
2 teaspoons prepared mustard (any type)
3 Tablespoons brown sugar
1 teaspoon freshly ground black pepper
2 Tablespoons quick cooking tapioca
2 teaspoons Mrs. Dash (original) OR Trader Joe's 21 Seasoning Salute
1 Tablespoon smoked paprika or regular paprika
1/2 teaspoon garlic powder
Cut the steak into 2 inch cubes. Dredge in flour. Heat olive oil in a skillet and brown the steak cubes in batches. Don't crowd the pan or the meat won't brown.
Place browned meat cubes in your Crock Pot. Add a little more olive oil to the skillet if necessary. Add the onion and green pepper slices. Saute until tender, fragrant and slightly browned. Place the onions and peppers in the Crock Pot. Deglaze skillet with the red wine/sherry. Pour this into the Crock pot along with all the drippings.
Add the rest of the ingredients and give everything a good stir. Cook on the LOW setting for 7 to 8 hours, or until the meat is very tender and falling apart.
Serve over buttered sour cream mashed potatoes. Salt and pepper to taste.
Enjoy!
~Melissa
You may enjoy these related posts: