Print Friendly Version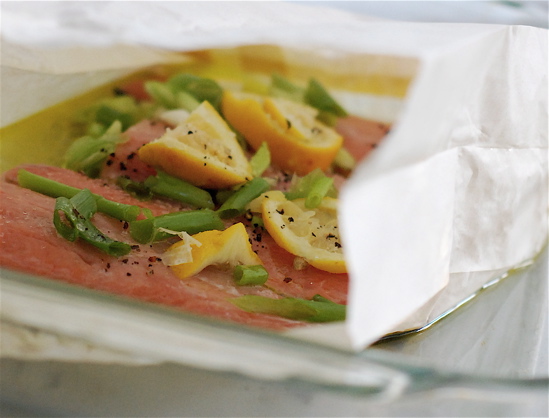 Have you ever tried using these handy parchment cooking bags? We love them for their quick cooking time, easy clean up and for the beautiful, healthy, moist meat dishes you can make in them. Wonderful for chicken and fish! (To try one of our favorite chicken recipes using this method go HERE.)
for the salmon:
4 large wild salmon fillets (fresh and boneless)
1 large lemon, quartered
1/4 cup extra virgin olive oil
4 spring onions
coarse sea salt
freshly ground black pepper
Place the parchment bag on the bottom of a 9 x 13 glass baking dish. Place the fresh salmon fillets inside so they lay flat (if your salmon fillets have skin on one side, place the skin side down.) Drizzle evenly with the olive oil. Squeeze the lemon quarters over fish pieces and place the peels directly on the fish. Sprinkle with the chopped spring onions, salt and pepper. Fold the end of the parchment bag over a few times and squeeze to seal. Bake at 350 degrees F. for 20 minutes, or just until fish is heated through, cooked and flaky. We like ours with brown rice or baby bliss potatoes.
Enjoy!
~Melissa
You may enjoy these related posts: