Print Friendly Version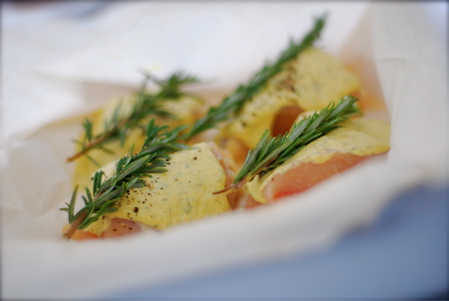 ~ dijon cream chicken in parchment ~
Have you ever used parchment pouches to cook meat or fish? We came across these awesome culinary parchment bags while browsing the adorable Buchanon's market here in Red Wing. So far we've used them to make white fish with olive oil, lemon wedges, salt pepper and dill…and these lovely chicken breasts. What I like so much about using these is that the meat cooks faster, and the bags hold in the moisture so the chicken doesn't get dried out before it's done cooking. Try them and see for yourself! For more great ideas go to The Paper Chef website and browse their recipes.
preheat oven to 400 degrees F.
4 boneless, skinless chicken breasts
4 Tablespoons Dijon mustard
2 Tablespoons cream
2 Tablespoons extra virgin olive oil
1 Tablespoon dried tarragon
1 Tablespoon minced garlic
salt and fresh ground pepper
4 sprigs fresh rosemary or thyme
Place the fresh, or completely thawed chicken breasts in one even layer in a parchment cooking bag. Combine the Dijon, cream, olive oil, tarragon, garlic, salt and pepper. Spoon over the chicken breasts evenly. Place a fresh herb sprig on each breast. Fold pouch over a few times and sort of scrunch it so it doesn't open. Place in a glass baking dish and cook for 15-25 minutes (or just until completely heated through, no longer pink, and juices run clear.) Serve with spring greens topped with Balsamic vinaigrette and buttered Jasmine rice.
Enjoy!
~Melissa
You may enjoy these related posts: