Print Friendly Version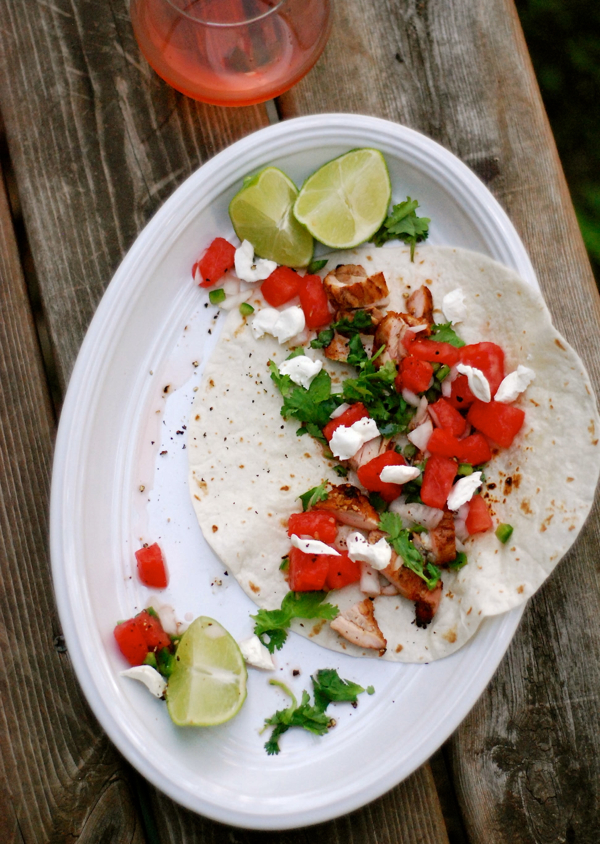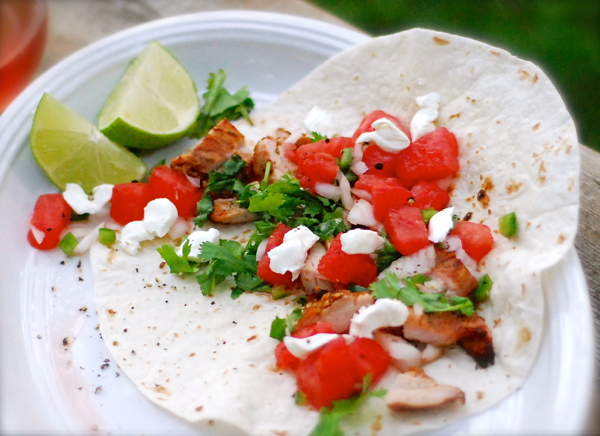 These tacos showcase all the fresh, delicious flavors of summer! They go together quickly once you grill up your chili chicken thighs. They're perfect for Friday night dinner on the deck!
My bestie, Josh, showed me how to make "food truck-style" taco tortillas one day when he was over for lunch. Pure genius! Seriously, the best taco shells ever and so easy to prepare!
~ serves 4 (2 tacos each) ~
for chicken thighs:
4 to 6 boneless skinless chicken thighs
1 Tablespoon minced, jarred garlic + 2 T of the juice from the jar
1 Tablespoon chili powder
1 Tablespoon olive oil
1 Tablespoon honey
juice of 1/2 lime
Mix all marinade ingredients in a large, heavy duty Ziploc bag. Add the chicken thighs to the marinade. Remove air from bag, seal, and moosh the marinade all over the thighs. Place sealed bag in a bowl and place in refrigerator. Marinate for at least 2 hours prior to grilling. Discard marinade. Grill chicken over coals until juices run clear when sliced.
Cut chicken into strips and serve on tacos.
for the "food truck" style tortillas:
Turn one of the burners on your gas stovetop on low so there's just a small flame. Place flour or corn tortillas, one at a time, on burner. Flip carefully and often until tortillas are soft, toasty and charred in a few spots. Watch closely so they don't burn. Serve immediately with your favorite taco toppings.
for the watermelon lime salsa:
2 cups chopped, seedless watermelon
1 jalapeno, seeds and stem removed, chopped fine
1/4 cup finely chopped onion
fresh juice of 1/2 lime
1 teaspoon lime zest
1 Tablespoon white wine vinegar
a drizzle of honey or a sprinkle of sugar
salt and pepper, to taste
1/3 cup fresh cilantro, chopped
Place all salsa ingredients in a bowl, gently mix to combine. Cover and refrigerate until ready to serve.
putting the tacos together:
Top each prepared tortilla with some of the grilled chicken strips, some of the watermelon salsa, and some fresh cojita, chevre or cream cheese crumbled over the top. Serve with fresh lime wedges for squeezing over tacos.
PS… These tacos are AWESOME paired with cold, pink moscato or rose wine!
Enjoy!
~Melissa
You may enjoy these related posts: