Print Friendly Version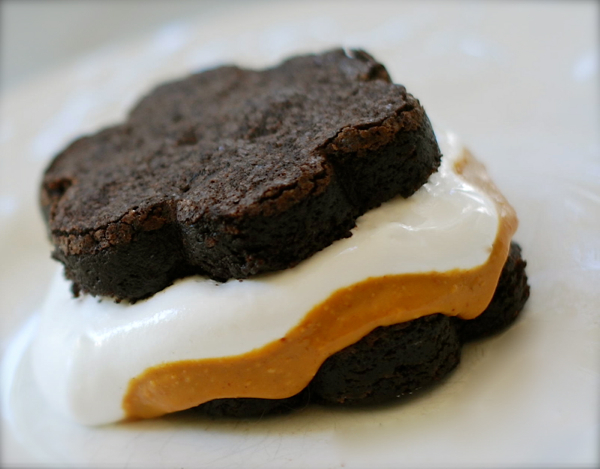 A couple nights ago we were craving chocolate so I decided to make a batch of my favorite, easy brownies. I only had the dark, unsweetened cocoa powder so I used that. The result? These perfectly chewy chocolate brownies that are dark as night. SO good! They reminded me of the soft, cookie part of chocolate whoopie pies, so I went with it and this recipe was born. Fluffernutter meets whoopie pie. They make quite a pair! Try this delicious dessert and see for yourself.
for the dark chocolate brownies:
1/2 cup unsalted butter
1 cup sugar
1 and 1/2 teaspoons pure vanilla extract
2 large eggs
1/2 cup all-purpose flour
1/3 cup unsweetened, dark chocolate, cocoa powder
1 teaspoon salt
Heat oven to 350 degrees F. Generously butter a 9 inch square cake pan. Combine 1/2 cup butter,  sugar, vanilla, and eggs in bowl. Mix well. In a separate bowl combine flour, cocoa and salt. Mix wet and dry ingredients together until well blended. Spread evenly into buttered cake pan. Bake for 25 minutes, or until the edges of the brownies just start to pull away from the sides of the pan. It's okay if they're still a little soft in the middle. They'll firm up as they cool. Cool completely on a wire rack.
Cut out as many circles as you can using a cookie cutter (I used one with a scalloped edge.) I ended up with enough brownie circles to make 5 Fluffernutter Whoopie Pie Brownies. If you need more than that, this brownie recipe can easily be doubled.
to make the Fluffernutter Whoopie Pie Brownies:
line up half of your brownie circles
top each with some creamy peanut butter
line up the other half of your brownie circles
top each with a dollop of marshmallow fluff
moosh tops and bottoms together
Voila!
Enjoy!
~Melissa
You may enjoy these related posts: