Print Friendly Version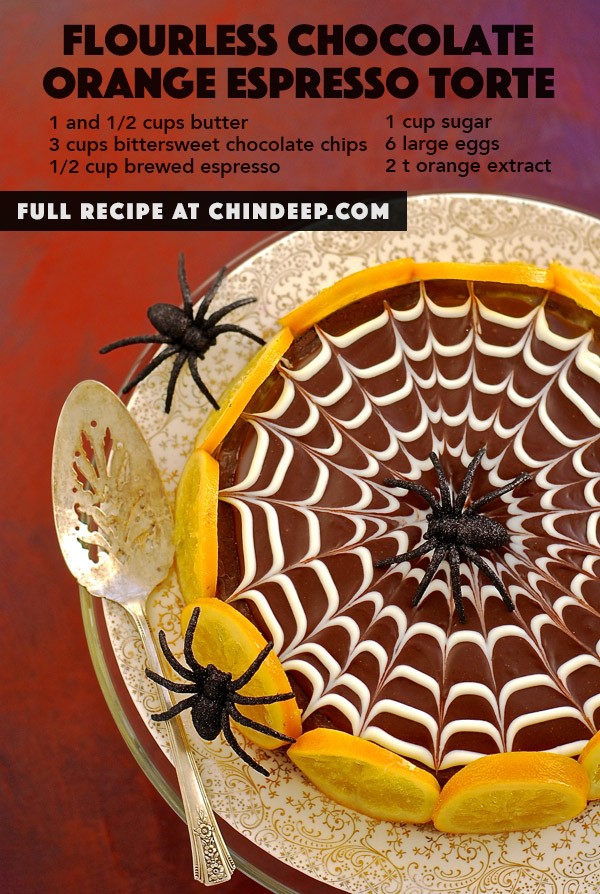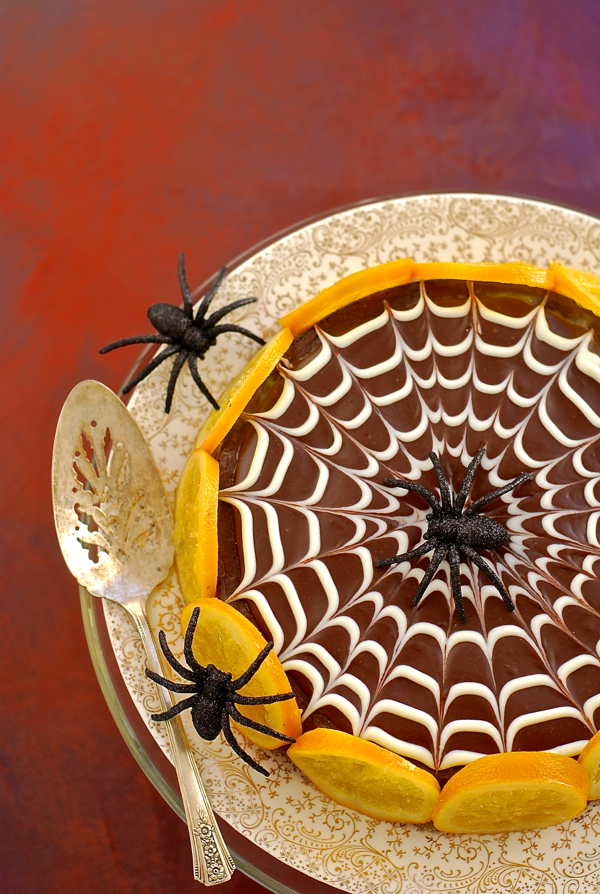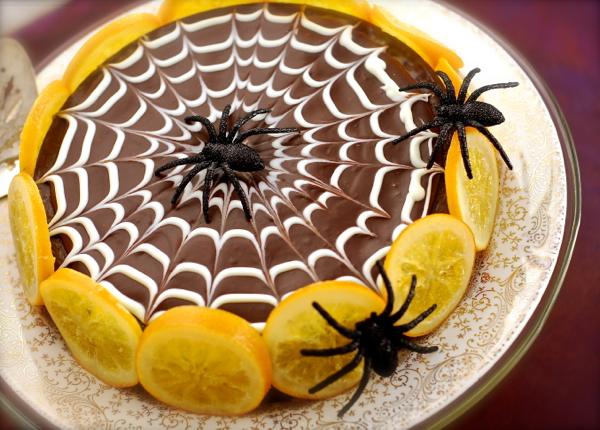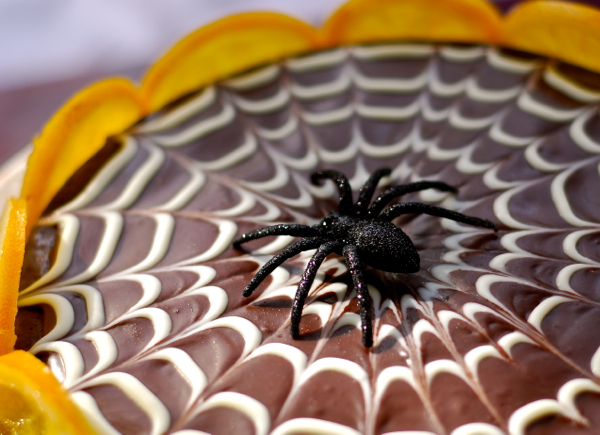 Here's a new twist on my famous Flourless Chocolate Espresso Torte. Jeff and I adore the combination of orange and chocolate, so I decided to change it up a bit this year for his birthday and add a twist of orange. It turned out wonderful! There's just a hint of orange mixed in with the creamy, semi-sweet chocolate and the flavor of espresso. It reminds me of my favorite mocha Valencia coffee drink that I used to be able to order at Starbucks! So delicious!
The "scary" spider web and spiders were added for extra flair since my hubby celebrates a Halloween birthday. Fancy, huh? And easier than it looks. Enjoy!
If you want to embellish the edges with candied orange slices as shown above follow THIS LINK for the recipe.
~ preheat oven to 350 degrees F. ~

1 and 1/2 cups real unsalted butter, cut into chunks
3/4 lb. bittersweet chocolate, chopped or chips (3 cups)
1/2 c. espresso or very strong, dark roast coffee, brewed
1 cup sugar
6 large eggs
2 teaspoons pure orange extract
~ to prepare ~

Generously butter an 8 inch, round cake pan. In a saucepan, over low heat, melt chocolate, butter and espresso. Add 1 cup sugar and stir constantly until just melted. Remove from heat. In a large mixing bowl, beat the eggs. Whisk in the chocolate mixture until well blended. Stir in orange extract. Pour into prepared cake pan. Very carefully, place in a larger cake pan that contains boiling water. Adjust water so it comes half way up the side of the torte pan. Very carefully place in the 350 degree F. oven. Bake the torte in this water bath for about 45 minutes (or until torte barely jiggles in the middle.) Remove torte from water bath. Chill in refrigerator until completely cool (about 8 hours.)
~ to unmold ~

Dip bottom of torte pan in very hot water for 10 to 15 seconds. Carefully invert onto a pretty serving plate.
~ for the ganache ~

Combine 1/2 cup bittersweet chocolate (chopped or in chip form,) 1/4 cup heavy cream, and 1 and 1/2 Tablespoons butter in a small saucepan. Cook on low, stirring constantly, until just melted. Add 1/2 teaspoon pure orange extract. Mix well. Remove from heat and immediately pour over torte. Spread evenly with a rubber spatula so it barely reaches the sides of the top circle of the torte. Don't let it drip down the edges if you want to make the spider web.
~ for the spider web ~
Place approximately 1/2 cup of melted white chocolate in a squeeze bottle. Starting in the center of the ganache circle on the top of the torte, make one big consecutive swirl with the white chocolate until you reach the edges. Again, don't go past the ganache circle, and don't allow the chocolate to drip down the sides. Using a toothpick, and starting in the center of the swirl, gently drag the toothpick from center of swirl to outer circle in a straight, uninterrupted line. Repeat, going all the way around the circle until you have a "web."
Chill torte in refrigerator until ganache and white chocolate are completely cooled and set.
~ to garnish and serve ~
Place candied orange slices (if using) all along edge of torte. Place a few fake spiders on top and sides of torte once the chocolate is completely hard.
Carefully slice with a very sharp knife. Enjoy with afternoon tea, a little port, a hearty red wine or a French press coffee!
~Melissa
You may enjoy these related posts: