Print Friendly Version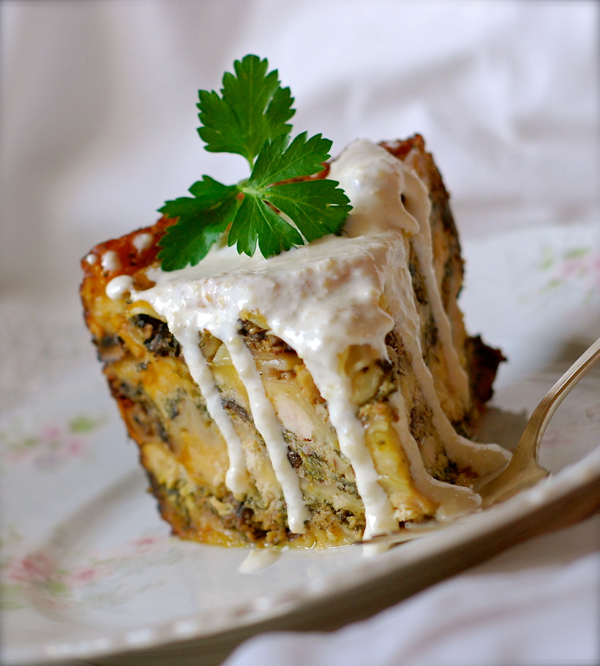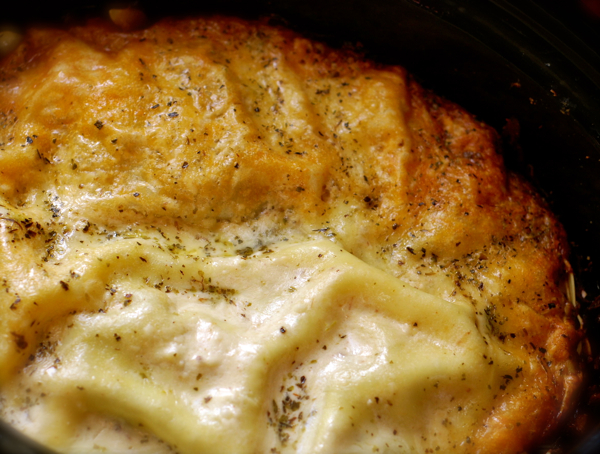 Happy Friday, Lovelies! I've been busy in the kitchen this week! Making lots of yummy comfort food and developing all sorts of recipes for Super Bowl Sunday. Super Bowl Sunday isn't exactly a holiday, but it's a well known day for gathering with family and friends to watch the big game and everyone loves the different comfort foods that are served.
Here's another favorite in our house. After perfecting my recipe for The BEST Slow Cooker Lasagna, I decided to expand my horizons and create something similar with a white sauce. Oh my goodness, this turned out amazing. It's great, casual game day fare, but it would also make an incredible, fancy company meal for a dinner party.
You can certainly buy store bought, jarred alfredo sauce or alfredo sauce from the refrigerated, deli section in your supermarket if you like (Buitoni makes a pretty good one and I've found it next to the refrigerated ravioli.)
I love creamy, fresh, homemade alfredo sauce. It's pretty easy to make, but it does add an additional step to this recipe, so do whatever works best for you. The recipe below will make enough for assembling the lasagna. Make a bit more if you want extra for drizzling over each slice just prior to serving your guests.
If you like the idea of a slow cooker lasagna with white, alfredo sauce but you don't like spinach or mushrooms, simply omit one or both ingredients, or substitute drained artichoke hearts for one of them.
Note: Don't be tempted to add salt to this recipe. The salt content in the Parmesan cheese is perfect for this dish. If you find it's not salty enough to suit your taste, you can always salt it at the end.
for the alfredo sauce:
4 Tablespoons unsalted butter
3 large cloves garlic, minced
1 cup heavy cream
1 cup milk (any fat content will work for this)
2 cups freshly grated Parmesan cheese
a pinch of white pepper
Melt butter in a saucepan. Add garlic and cook for 30 seconds, or just until fragrant. Add cream, milk, Parmesan and white pepper. Turn heat to low and whisk constantly until thickened. Remove from heat and set aside.
for the lasagna:
1 large egg, lightly beaten
12 oz. frozen chopped spinach, thawed and squeezed dry
1 small onion, chopped and sauteed until golden
10 oz. fresh basil pesto (or your favorite jarred stuff)
15 oz. whole milk ricotta cheese
8 to 10 oz. baby bella mushrooms, washed, sliced and sauteed
splash of dry white wine (approximately 1/4 cup)
1 lb. cooked chicken, chopped (or ground chicken, browned)
3 cups alfredo sauce + more for drizzling (recipe below)
9 oz. no-boil lasagna noodles (I use Barilla)
1 lb. fresh mozzarella cheese, coarsely grated
1 Tablespoon dry Italian seasoning (or chopped, fresh)
black or white truffle oil for drizzling (optional)
sprigs of fresh parsley or basil (garnish)
In a large mixing bowl, combine: egg, dry spinach, sauteed onion, pesto, ricotta, sauteed mushrooms (once mushrooms are sticky from sauteing deglaze pan with the splash of white wine. Cook just until mushrooms reabsorb their juices and the wine.) Set bowl aside.
To assemble: Oil Crock Pot with vegetable oil (not butter or olive oil or it will burn.) Spoon 1/2 cup of the alfredo sauce into the bottom of the prepared Crock Pot and spread it around evenly. Place an even layer of noodles over the sauce (you'll have to break some of the noodles to make them fit.) Top with 1/3 of the ricotta mixture, followed by 1/3 of the chopped, cooked chicken, Sprinkle with 3/4 cup of the mozzarella cheese. Drizzle on 3/4 cup of the alfredo sauce. Repeat layers two more times, ending with a layer of noodles topped with the rest of the mozzarella and the rest of the alfredo sauce (unless you made extra alfredo for drizzling over the top of the finished slices of lasagna.) Sprinkle top with the Italian seasoning. Cover slow cooker and set on LOW. Cook for 4 hours.
Carefully remove cover. Unplug Crock Pot. Carefully remove the crock from the heating element and set it on a big trivet or kitchen towel. Allow lasagna to sit, uncovered for 20 to 30 minutes before slicing and serving. Top with extra alfredo (if you wish) and a sprig of fresh parsley or basil.
Enjoy!
~Melissa
You may enjoy these related posts: