Print Friendly Version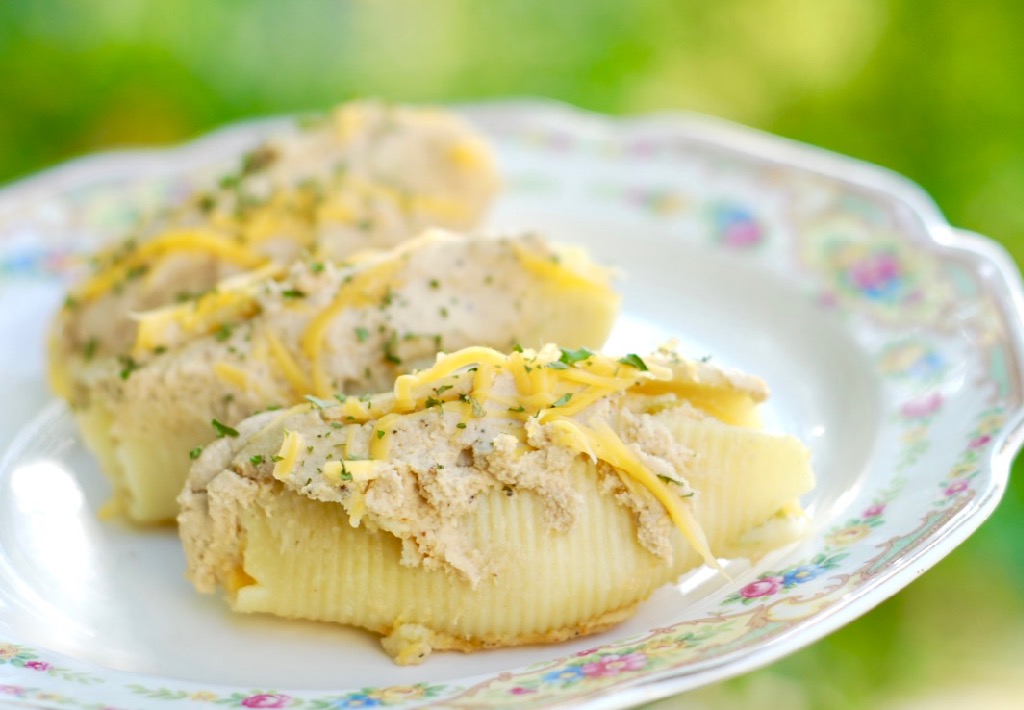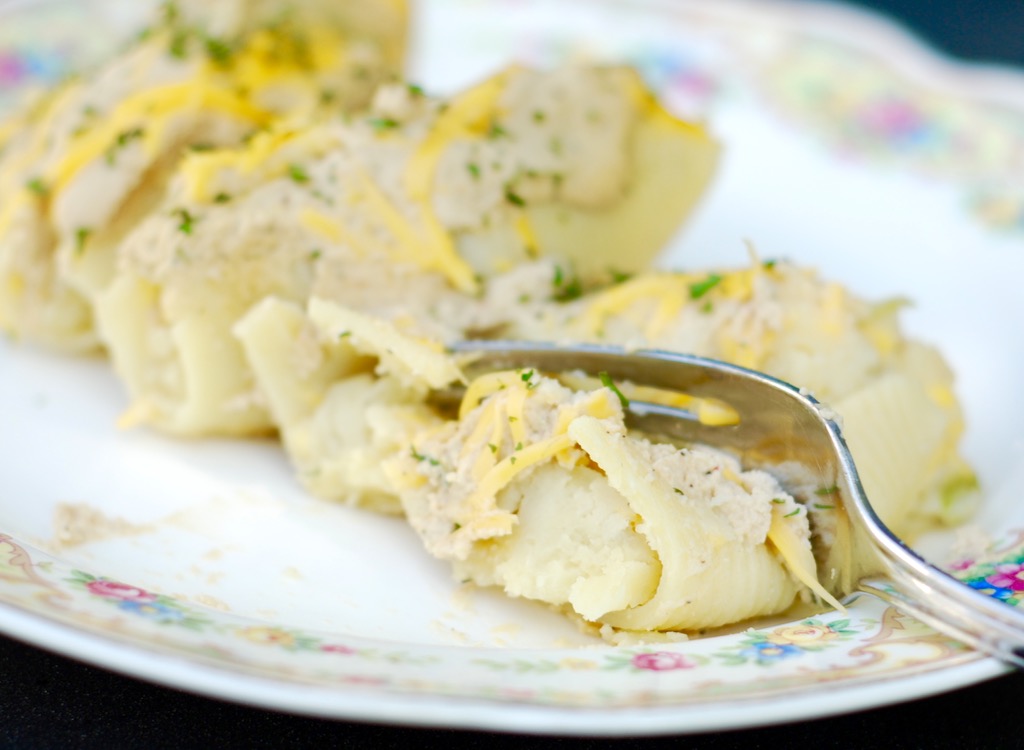 Calling all pierogi fanatics! Here's an awesome twist on an old classic! Pierogi-Stuffed Pasta Shells. They're so delicious and much less work that making traditional pierogis. We love them with these vegan BBQ Riblets, and a big salad.
These particular pierogi-stuffed pasta shells are vegan, and I make them using vegan sour cream or homemade cashew cream. Feel free to use your favorite sour cream in place of my vegan ingredients if you wish, but man oh man… these are AMAZING!
~ preheat oven to 350 degrees F. ~
for the cheesy potato pierogi filling:
12 oz. jumbo pasta shells
1 cup onion, chopped fine
1 cup cabbage, chopped
1 large garlic clove, minced
4 cups cold, mashed potatoes
3 Tablespoons melted vegan butter
5 Tablespoons nutritional yeast
1 teaspoon sea salt
1 teaspoon garlic powder
1 teaspoon onion powder
freshly ground black pepper, to taste
4 oz. shredded vegan cheddar cheese (or your favorite melting cheese)
Cook the pasta shells according to package directions. Drain well and cool. Once they're cool enough to handle, gently open them up and place them opening-side down on paper towels so they can cool and drain without sticking to each other.
Saute the onion and cabbage in a little olive oil until tender. Add the garlic and cook an additional 30 seconds, or until fragrant. Add these veggies along with all the other filling ingredients to the cold mashed potatoes. Fill the shells, but not too full. You want to be able to almost close the shells around the filling. Place filled shells in a lightly greased 9×13 glass baking dish.
For the white sauce:
1 and 1/2 cups cashew cream or vegan sour cream
1 teaspoon onion powder
1 teaspoon garlic powder
1 teaspoon mirin or white cooking wine
1 Tablespoon lemon juice or white vinegar
2 Tablespoons vegetable broth
plain, unsweetened soy milk, to thin
Whisk all together in a medium mixing bowl. Add some unsweetened, plain soy milk to thin to desired consistency. It should resemble a thick alfredo sauce.
Pour this sauce evenly over the shells, so they're completely covered. Sprinkle a little extra vegan cheddar shreds over the shells, and a little parsley too. Cover the pan with foil and bake in preheated oven for 20 to 30 minutes, or until completely heated through. Serve.
These will keep in your refrigerator for a week. Make sure to store them in an air tight container.
Enjoy!
~Melissa
You may enjoy these related posts: