Print Friendly Version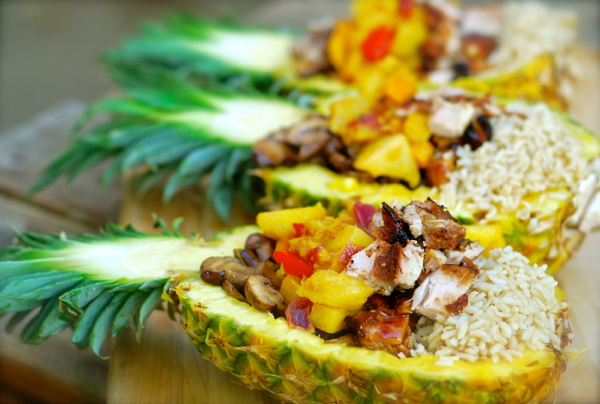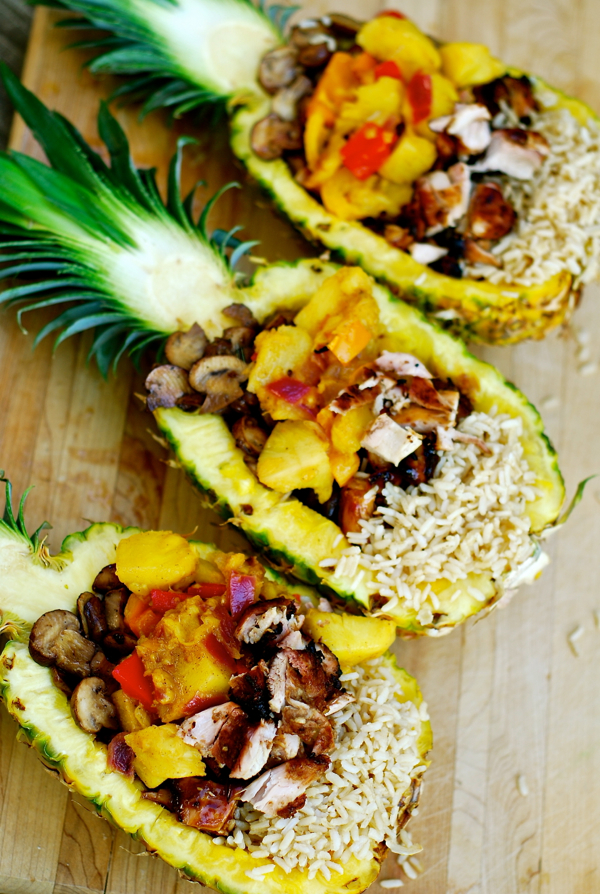 Aloha!
This past weekend we decided to have a little Hawaiian luau on our deck. We adore all things Hawaiian, and after making our favorite cold ginger chicken, we decided to try something new. Well sort of new. I've been making teriyaki bowl for years and years, but never in a hollowed out pineapple bowl! This was over the top awesome, and it would be so fun to serve these luscious bowls at a summer dinner party or back yard BBQ.
serves 4 people:
2 fresh pineapples, halved lengthwise
2 cups cooked brown or white rice
10 chicken thighs
2 Tablespoons dark sesame oil
1/2 cup pineapple juice
1/4 cup jarred garlic + 2 Tablespoons of juice from the jar
1/4 cup lite soy sauce OR ponzu sauce
1/4 cup grated fresh ginger + juice
2 Tablespoons brown sugar
8 oz. baby bella mushrooms
1/4 cup olive oil, divided
1/2 cup dry white wine, divided
1/2 cup purple onion, coarse chopped
1/2 red bell pepper, coarse chopped
1/2 orange bell pepper, coarse chopped
1/2 yellow bell pepper, coarse chopped
1/4 teaspoon garam masala
1/4 teaspoon white pepper
shredded coconut (optional)
snipped chives or sliced green onion (optional)
1 bottle of your favorite teriyaki sauce (we like La Choy for this recipe)
sriracha hot sauce
Place chicken thighs in a large, heavy duty, Ziploc bag along with: sesame oil, pineapple juice, jarred garlic, garlic juice, soy, ginger, ginger juice, (squeeze the ginger root once done grating) and brown sugar. Remove as much air as possible from the Ziploc and seal. Moosh the marinade ingredients around the meat to coat completely. Place bag in a bowl and refrigerate for at least 2 hours and up to 24 hours.
Cook brown or white rice according to package directions for 2 cups cooked rice.
Once meat has marinated for at least two hours, remove from marinade and grill over charcoal until chicken is very hot all the way through, the juices run clear, and chicken is no longer pink. (Alternatively you could bake or saute the meat if you don't have a grill… but grilling adds so much flavor, I highly recommend it for this recipe.) Once done, place in a bowl and cover with heavy duty aluminum foil to keep meat warm until ready to serve.
Split pineapples lengthwise, using a large, sharp knife. Make the halves as even as possible. Hollow out pineapple halves by cutting along the wall of the pineapple peel (leave a half inch wall) and then cut out big chunks of the pineapple so you have 4 pineapple "bowls." Reserve 2 to 3 cups of pineapple for this recipe (cut into bite sized cubes), and refrigerate the rest for another use.
Heat 2 Tablespoons of the olive oil in a heavy skillet over medium-high heat. Once hot, add the mushrooms. Saute until browned and until the mushrooms have reabsorbed their juices. Add 1/4 cup of the white wine to the pan to deglaze. Lower heat and cook until reduced and a bit sticky. Transfer to a bowl to keep warm.
Heat the other 2 Tablespoons of the olive oil in the skillet. Once hot, saute the onions and bell peppers until tender and onions are translucent. Deglaze pan with the other 1/4 cup wine. Cook until a bit reduced. Add 2 to 3 cups pineapple to skillet. Heat through. Season with the garam masala and white pepper as everything cooks.
To serve: Heat about 1/4 to 1/3 cup of the teriyaki sauce in a saucepan. Toss the grilled chicken with the sauce once heated. Place a portion of the meat into each of the 4 pineapple bowls, followed by some of the sauteed veggies/pineapple, mushrooms, and rice. Garnish bowls with a sprinkle of coconut, a drizzle of hot sauce, some chives/green onion, and a little more teriyaki sauce, if you wish. Serve immediately.
Enjoy!
~Melissa
You may enjoy these related posts: