Print Friendly Version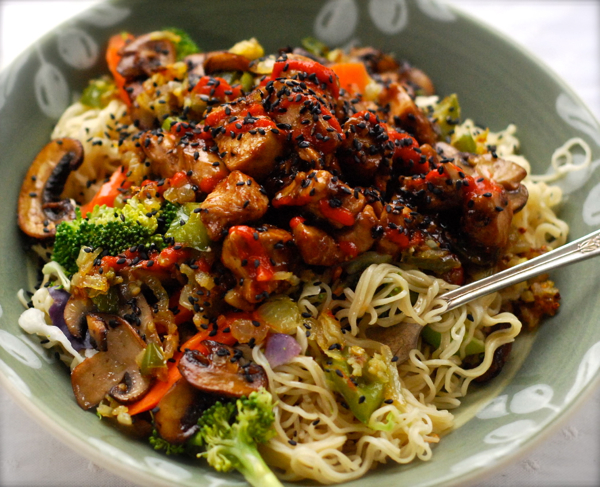 ~ teriyaki bowl  ~
"A wise [woman] always eats well." ~Chinese Proverb
This is a recipe that was published in my first book, Chin Deep in Bubbles, on page 77. I consider it "spa" cuisine because it contains so many good-for-you ingredients, but make no mistake, this isn't boring diet food. It's full of wonderful, fresh flavors. It's delicious made with lean chicken, pork, beef or shrimp, scrambled egg or firm tofu.
~components of a teriyaki bowl~
At first glance this may seem like a complicated recipe, but it's really not. Once you make it you'll see what I mean. There are a lot of parts to a teriyaki bowl, but they can all be cooking at the same time so it only takes about 20 minutes from start to finish.
~noodles~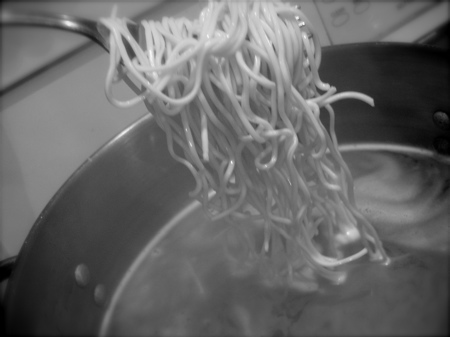 Cook your favorite kind of noodles according to package directions. I've used thin spagehtti, lo mein, soba, udon, and homemade noodles for this recipe. You can also use white or brown rice in place of the noodles. Toss the noodles with a little olive oil, cover and set aside.
~vegetables~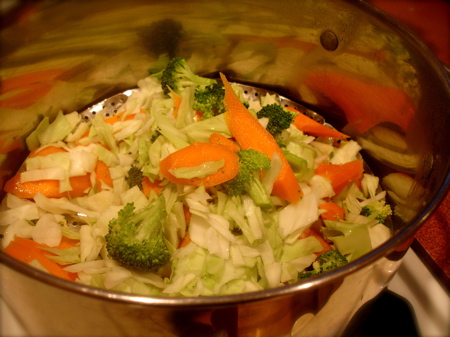 Steam carrots, broccoli, and cabbage until almost tender and brilliantly colored. Remove from heat and keep covered. Steamed veggies will continue to cook even after they've been removed from the heat so be careful not to overcook them or they'll be mushy and tasteless.
~peppers and onions~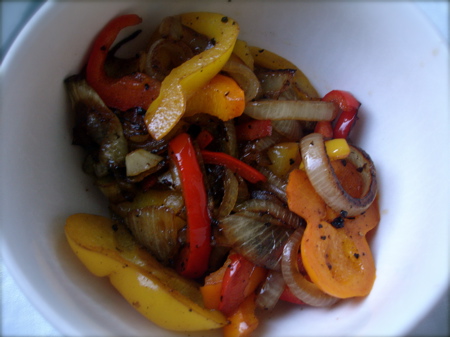 Stir fry multi-colored sweet, bell peppers and onions in a little olive oil until tender and the onions begin to brown a bit. Remove from heat and cover.
~mushrooms~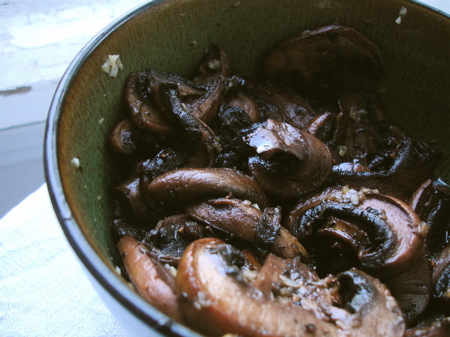 I use to just add my mushrooms to the chicken while it was cooking, but I've recently been making them as if I'm going to use them as a topping for crostini. Read THIS POST for how to prepare the most flavorful, yummy mushrooms you've ever tasted. mmmmmmm!
~chicken~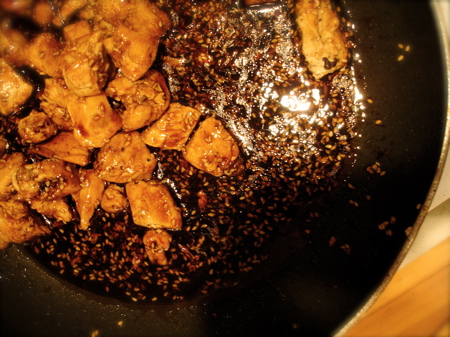 Cut boneless, skinless chicken breasts into chunks and fry them up in a little olive oil and dark sesame oil until cooked through. Add some teriyaki sauce to the pan and cook until heated through. Add a splash of white wine and sprinkle with toasted sesame seeds.
~to assemble~
Place noodles, steamed veggies, peppers & onions, mushrooms and chicken in large, single serving bowls. Pour a little extra teriyaki sauce over the top and season with red pepper flakes or Sriracha hot sauce if you like spicy.
Enjoy!
~Melissa
You may enjoy these related posts: