Print Friendly Version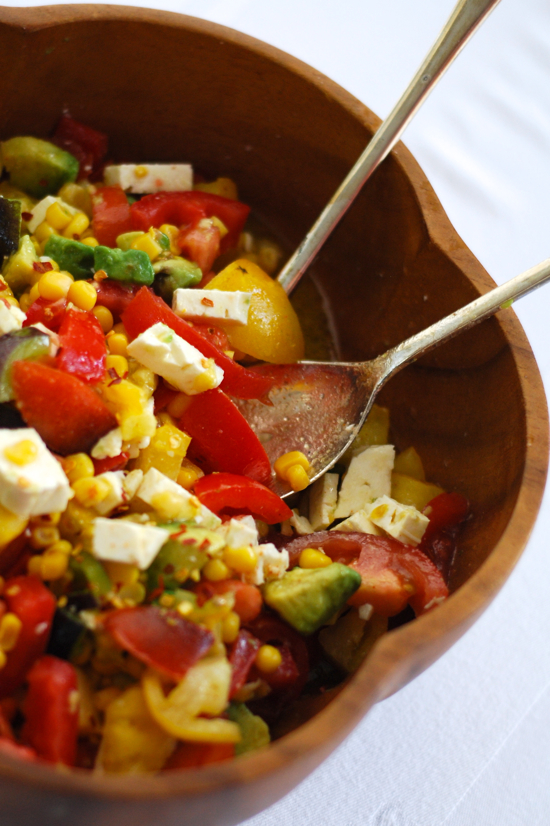 I was out on my morning walk a few days ago and noticed a roadside produce stand piled high with yellow and red Brandywines, Limmony's, green zebras and Black Prince heirloom tomatoes. I slowed down as I got closer so I could admire these little gems. The owner of the stand informed me that I could fill a bag for a DOLLAR! Luckily I had a little cash on me so I did just that and a bag of gorgeous produce accompanied me on the remainder of my outing.
When I returned  home I got busy making the above rendition of the classic caprese salad…I had some fresh avocado and corn so I thought a mixture of pretty colored tomatoes with a bit of a spicy flavor would be fun to put together for part of our dinner. Between Jeff, Andie, Gracie and me we made that salad disappear in a flash. If you have access to heirloom tomatoes, you're in for a treat!
2 large yellow Brandywine tomatoes, chopped into bite-size chunks
2 large red Brandywine tomatoes, chopped into bite-size chunks
1 medium Green Zebra tomato, chopped into bite-size chunks
2 small Black Prince tomatoes, chopped into bite-size chunks
1 large (or two small) ripe avocados, peeled, pitted and chopped
1 cup sweet corn, cooked and chilled
2 large cloves garlic, minced
4 oz. queso blanco or feta cheese, cut into small cubes
juice of 1/2 large lemon
1/4 cup olive oil
2 teaspoons Tony Chachere's cajun seasoning
1/2 teaspoon cumin
Cholula hot sauce (or your favorite hot sauce) to taste
a little chopped cilantro or flat leaf parsley as a garnish  (optional)
Combine all in a large salad bowl and serve immediately.
Enjoy!
~Melissa
You may enjoy these related posts: