Print Friendly Version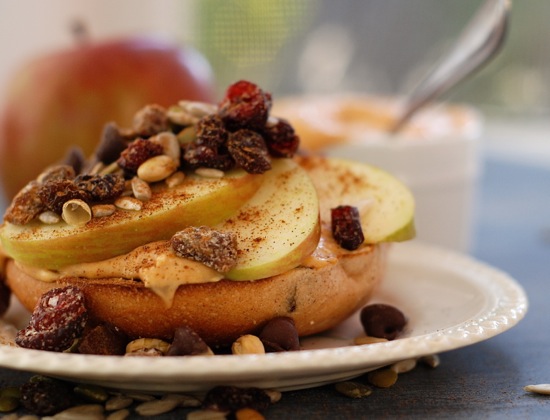 I'm up early in my home studio…writing while the rest of the house sleeps. It's still dark outside and I sit at my desk with a big quilt wrapped around me and a giant mug of tea within arm's reach. Agnes Obel croons softly over the sound system and the little girl cat is only a few feet away from me, curled up on top of a down comforter, snoring.
Here's a breakfast delicacy I dreamed up while looking for something other than strawberry, blueberry or honey nut cream cheese to top my morning bagel. I wanted pumpkin! It's so easy to whip up, you won't believe it. This spicy, fragrant topping would also be a yummy fruit dip for a fall wine tasting party.
8 oz. cream cheese, softened (light or Neufchatel will work, but won't be as firm and creamy)
1/2 cup pure pumpkin puree
1/4 cup clover honey
1 teaspoon orange zest (optional)
1/2 teaspoon ground cinnamon
1/2 teaspoon ground ginger
1/2 teaspoon ground nutmeg
1/4 teaspoon  ground cloves
Place the softened block of cream cheese in the bowl of your kitchen aid or food processor. Add all the other ingredients and blend until smooth and everything is evenly incorporated. Spread liberally over your favorite sweet, toasted bagel. (Some of my favorite flavors are cinnamon raisin and maple nut.) Top with sliced, tart apples, trail mix and a few chocolate chips. Enjoy with a cup of French press coffee, a cup of tea, or a vanilla latte!
Happy breakfast to you!
~Melissa
You may enjoy these related posts: